Solar Powered Battery Pack: How to Choose
Going solar can reduce your electricity bills and carbon emissions. It's a clean, green, and renewable energy source that helps you protect the planet while saving money. However, investing in only solar panels is not enough. You'll need a solar-powered battery pack to store the surplus energy the solar panels generate during peak sunlight hours.
One of the highly efficient solar batteries available in the market is Jackery Explorer Portable Power Stations. The robust and powerful batteries can store energy and supply stable power to all appliances. The most compact and efficient version is Jackery Explorer 300 Portable Power Station. Available at an affordable price, the power bank allows you to charge smartphones and other small devices efficiently and for long hours.
Jackery Explorer 300

 

- Best portable power station to charge outdoor appliances with 293Wh (14.4V, 20.4Ah) capacity.

- Lithium-ion battery pack to provide stable power to different types of appliances.

- Built-in MPPT controller to improve solar recharging efficiency.

- Smart display to show input/output power and the remaining battery.

- Can be recharged by solar panels, wall outlets, or car outlets.
What Is A Solar-Powered Battery Pack?
A solar-powered battery pack or a battery bank works in tandem with the solar panels to produce and store energy from the sunlight. The power bank holds unused power from the sun to charge various electronic gadgets, including bulbs, torches, phones, tablets, etc.
Most power banks are portable enough to be carried out when the need arises, while others are heavy. The main feature that makes solar power banks unique is that you can charge appliances using free solar energy when sunlight is unavailable.
The Types Of Solar Powered Battery
There are four main types of solar-powered battery packs.
Lead-Acid
The lead-acid battery bank is one of the most common battery types available for residential applications. It is a reliable and cost-effective battery type and is thus used in home solar systems. Although lead-acid packs have a long lifespan compared to other batteries, they have low energy density. That is, they store less energy and require quick recharging.
Lithium-Ion
The lithium-ion technology is much newer but has soon established itself in the market. These advanced batteries are smaller, lighter, and most efficient. In addition, they have a high energy density that helps users store more energy and power appliances for longer before depletion.
Nickel-Cadmium
They are rarely used in residential solar solutions but are highly preferred in industrial applications. The nickel-cadmium batteries require relatively low amounts of maintenance. However, one thing to note is that cadmium is highly toxic and requires proper disposal. 
Flow
These types of batteries depend on chemical reactions. Even though they have high efficiency, the energy density of the flow battery is generally less.
The Benefits Of Solar-Powered Battery Pack
Using a solar-powered battery pack offers a bunch of benefits. Some of the most prominent benefits include: 
Energy Independence: A solar power system with efficient solar panels and a power bank can reduce reliance on electrical grids. The battery stores the solar energy produced by the panels during the day, so you can keep your gear charged for the entire night.
Low Carbon Footprint: Solar energy is responsible for minimizing the use of fossil fuels to protect the environment. Thus, when you switch to solar energy, you can reduce your carbon footprint. 
Savings on High Bills: A solar power battery can help you reduce, if not eliminate, your home electricity bills. Using a reliable solar generator, you can charge most of your home or outdoor appliances.
Working Principles Of Solar-Powered Battery Pack
The interest in solar energy storage technologies is increasing. If you intend to invest in a solar system, it's vital to understand its working principle or power supply chain. Below we cover the main working principles of solar power source, storage, and use of solar power.
Solar Power Source
Several sources are available that will help you charge your power storage unit or any electronic device. Some most common power sources include:
AC power (wall outlet)
Solar panels
USB output
Hydrogen fuel cell
12V DC 
The ideal way to charge the battery is by using solar panels. The clean, renewable, and efficient charging solution will help you harness the sun's power instead of fossil fuels that harm the environment.
Solar Power Storage
The energy produced by the solar power source is used to charge up the storage system instead of the electronic gadget. This is because power sources may or may not provide stable currents to the devices, making them prone to damage. Below are a few key specs for portable solar battery packs. 
Storage Capacity
Battery storage capacity represents how much charge the battery can store for later use. Analyzing the power requirements of your electronic device will let you understand which storage capacity is sufficient for your needs.
Power Output
The battery output (usually measured in volts) should be equal to the input battery voltage requirements of the appliance. If it is lower, the device battery might drain instead of charging.
Battery Technology
Most portable battery packs are built with lithium-ion and lithium polymers, while a few batteries are likely to be made using NiMH or lead acid. Lithium-ion batteries are highly efficient and reliable for powering gadgets at home or outdoors.
Solar Power Use
Before powering the devices with the charged solar battery, you'll need to look for technical specifications. Check the charger's voltage rating or DC output and ensure your battery can deliver at least the same voltage.
Below are a few electrical appliances with their internal battery capacity and voltage input rating.
| | | | |
| --- | --- | --- | --- |
| Devices | Wattage | Internal Battery Capacity | Voltage Input Rating |
| GPS with rechargeable lithium battery | — | 2000-2400 mAh | 3.7-7.4 V |
| MP3 player | 0.28 W | 600-1000 mAh | 3.7 V |
| Cell phones | 2-6 W | 850 mAh | 3.7 V |
| E-readers/tablets – USB power input | 15-30W | 1250-4400 mAh | 5 V |
| Netbooks, laptops – DC power input | 20-300W | 3500-6600 mAh | 8.5-19.5 V |
Jackery Powered Battery Packs
Jackery is a top portable power station manufacturer, helping people switch to clean and reliable energy. The ultimate mission is to make green energy accessible. Below are the power stations available in different power sizes and capacities to fit the user's power needs and budgets.
The highly affordable power station lets you power a wide range of small devices like phones, tablets, lights, etc.
If you want a power station to accompany you for a short trip, Jackery Explorer 300 Power Station might be the ideal choice.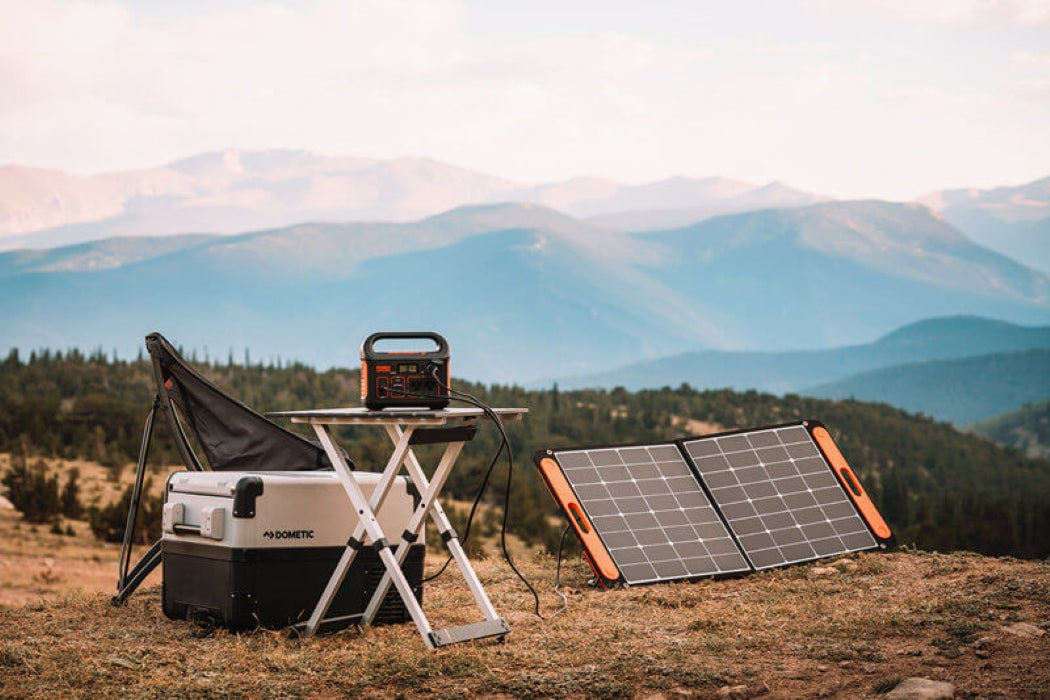 With an easy-carry handle and a size as small as a basketball, Jackery Explorer 500 Power Station enables you to charge different devices during camping trips or power outages.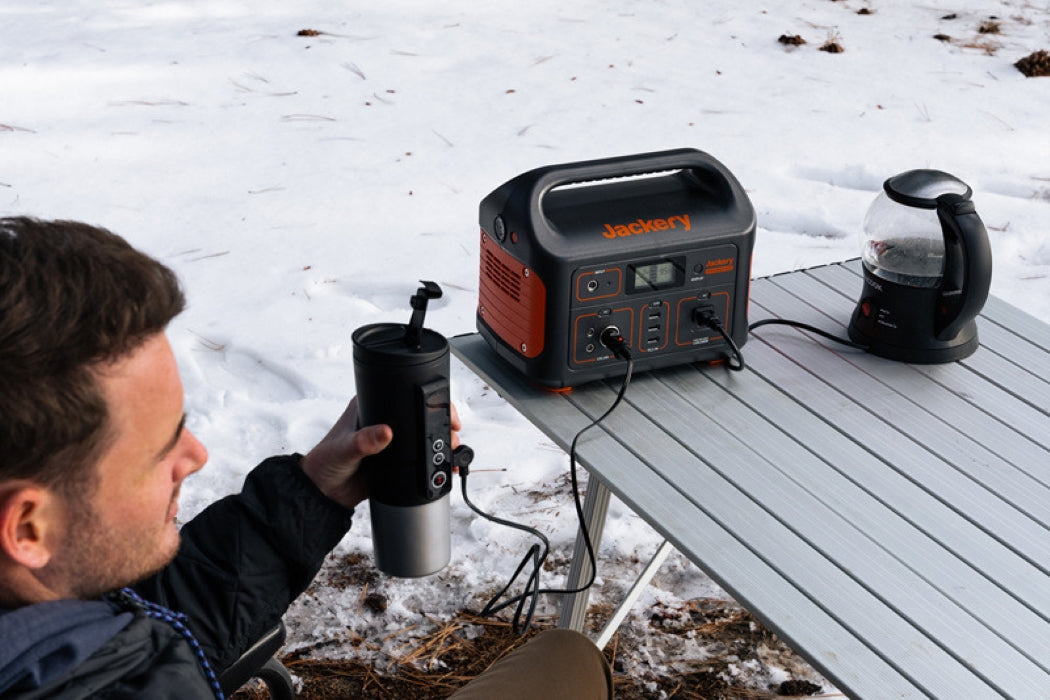 The fast-charging solution is an excellent solution for off-grid living and power outages. It features ultra-long battery life and an innovative, intelligent screen display. The multiple output ports can power up to eight devices simultaneously.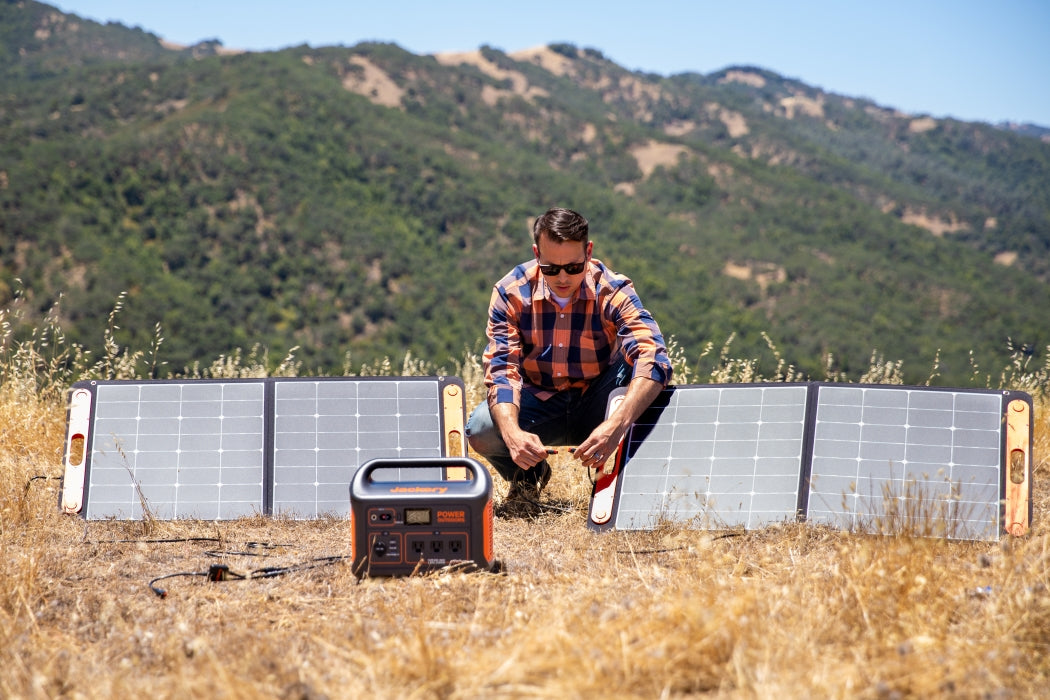 Power Stations

Capacity

Recharging Time

Ports

Appliances

Jackery Explorer 240

240Wh

AC Adapter: 5.5 Hours

12V Car Adaptor: 6.5 Hours

Solar Saga 60W Solar Panels: 7 Hours

AC Output: 110VAC, 60Hz, 200W (400W Surge Peak)

USB-A Output: 5V, 2.4A

Car Output: 12V, 10A

DC Input: 12V-30V (65W Max)

Fan (15W): 13H

Drone (60W): 3H

Electric Blanket (55W): 3.7H

TV (60W): 3H

Light (5W): 40H

Jackery Explorer 300

293Wh

AC Adapter:4.5Hours

12V Car Adaptor:5Hours

SolarSaga 100W Solar Panel:5Hours

USB-C PD:5.5Hours

USB-A Output: 5V, 2.4A

Quick Charge 3.0 Output: 5-6.5V, 3A / 6.5-9V, 2A / 9-12V,1.5A

USB-C PD Output:  5V, 9V, 15V, 20V, 3A

Car Output:  12V, 10A

DC Input: 12V-30V (90W Max)

Mini Cooler (60W): 4H

Fan (15W): 16H

Drone (60W): 4H

Electric Blanket (55W):4.5H

TV (60W): 4H

Light (5W): 50H

Jackery Explorer 500

518Wh

AC Adapter:7.5Hours

12V Car Adaptor:7.5Hours

Electric Generator:7.5Hours

SolarSaga 100W Solar Panel:9.5Hours

AC Output:                               110VAC, 60Hz, 500W (1000W Surger)

USB-A Output:                         5V, 2.4A

Car Output:                              12V, 10A

DC Output:                               12V, 7A (6.5mm*1.4mm)

DC Input:                                  12V-30V (100W Max)

CPAP (AC Outlet): 9H

Blender (500W):52 Min

Mini Cooler (60W): 7H

Drone (60W): 7H

Electric Blanket (55W): 8H

TV (60W): 7H

Light (5W): 88H

Jackery Explorer 1000 Pro

1002Wh

AC Adapter:1.8Hours

4x SolarSaga 200W Solar Panel:1.8Hours

2x SolarSaga 80W Solar Panel:9Hours

12V Car Adapter:12Hours

AC Output: 120V, 60Hz, 1000W (2000W Peak)

USB-A Output: Quick Charge 3.0, 18W Max

USB-C Output: 100W Max, (5V, 9V, 12V, 15V, 20V up to 5A)

Car Output:   12V, 10A

AC Input: 120V, 60Hz, 15A Max

DC Input: 12V-17.5V(Working Voltage)⎓8A Max, Double to 16A Max;17.5V-60V (Working Voltage)⎓11A, Double to 22A/800W Max

Blender (500W):1.7H

Mini Cooler (60W): 14H

Coffee Maker (550W):1.5H

Microwave Oven (700W):1.2H

Tower Fan (45W): 19H
How To Choose The Solar-Powered Battery Pack?
Let us discuss some of the critical things to consider while choosing the solar battery pack for your power needs.
Size & Weight
The size and weight of the solar-powered battery pack are essential things to consider for buyers. It becomes even more crucial if you want a solar power solution for outdoor adventures like camping or hiking. You need to look for a mid-size power bank with a high battery capacity that is capable of powering appliances.
Capacity
Most solar-powered battery packs have a charging capacity of 50Ah or 50,000Ah. You can choose the right size solar system based on the appliances you wish to charge.
Portability
Outdoor enthusiasts should check the portability of solar power banks before purchasing. A lightweight, robust design solar bank with an easy-to-carry handle can be your ideal companion during outdoor adventures.
Charging Speed
Charging speed is a big deal if you want to power devices faster. That said, looking at how fast a solar bank can power devices is crucial. In addition, look for how quickly it can be charged using solar panels.
Outlets or Ports
If you want to power multiple electrical devices simultaneously, it's best to pick a solar battery with various ports and outlets.
Solar Powered Battery Pack FAQs
Are solar-powered battery packs worth it?
In short, yes. A solar-powered battery back can help you save money on electricity bills while ensuring you've power during brownouts or blackouts. In addition, it's the ultimate charging solution for those who want to live off-grid. Jackery Solar Generators combine solar panels and a robust power station to absorb sunlight, store electricity, and charge appliances.
Do solar-powered battery packs still work on cloudy days or at night?
Yes. A solar-powered battery pack, with a proper charge controller, a battery, and an inverter, can efficiently work on cloudy days or nights. However, installing a complete solar system can be costly since it involves a complex process. That's why investing in a solar generator is ideal. Solar generators can work any time of the day or night, ensuring your appliances get a continuous power stream.
How should I charge my solar-powered battery?
High-quality solar batteries like Jackery Explorer Portable Power Stations can be charged using the following:
Wall charger
Carport charger
AC outlet
Final Thoughts
Solar-powered battery packs are a must-have for homeowners and outdoor enthusiasts to keep their electronic items charged. From charging smartphones and laptops to tablets and other gadgets, a solar battery is an invaluable addition to your solar system.
Jackery is the leading manufacturer of convenient and portable solar panels and power stations. Whether you want to move off the grid entirely or want a reliable power solution for home outages, you can consider Jackery Explorer Portable Power Stations. The pass-through charging, temperature sensors, and BMS technology make these generators safe and secure.
---