How Does it Work?

Features

Products List
What is Jackery Portable Power Station
A portable power station is a battery-powered inverter generator that features AC outlet, DC carport, and USB charging ports, to power your appliances like a fridge, coffee maker, and CPAP machine. Whether you're planning camping trips, off-grid living adventures, or looking for a backup power supply, Jackery portable power stations provide an excellent power source for your activities.
Why choose Jackery
Portable Power Station?
All-Round Safety

12 Layers of Protection

9 Temperature Sensors

Best 94V-0 Fire Rating

Top Shock Resistant Level 9

Safety is first. The industry-leading battery management system protects your charging devices with 12 layers of control. With an excellent fire and shock-resistant design, you can use it with peace of mind in any situation.

Less to Carry,
More to Power

Powers 99% of Appliances

30% Lighter
in Weight

Designed with exploration in mind. Up to 30% less weight and size compared to alternatives. Equipped with an ergonomic handle design, it is easy to carry anywhere you wish to explore. From 160 W to 3000W, Jackery provides portable power solutions for all different uses and can power up to 99% of appliances, such as refrigerators, electric grills, CPAP machines, sump pumps, and more.

Up to 20 Years of Battery Life

20 Years Lifespan

4 Years
Stand By

If you go camping and use the power station every week, for 20 years, up to 80% of the battery's max capacity will still be maintained. (* Jackery Explorer 3000 Pro. Based on one full charge per week). When fully charged, the ultra-long battery can go on standby for up to an amazing 4 years. Perfect for camping, RV life, home emergency, and outdoor professional usage.

Quick Charging Anywhere

Full Charge
in 1.8H

Works from
14-104 ℉

Jackery portable power stations offer rapid charging. Featuring wall charging, car charging, and solar charging, the Explorer 1000 Pro can be fully charged within 1.8 hours. Also, pass-through charging technology allows recharging and charging appliances simultaneously. Jackery performs in a temperature range of -14℉~104℉(-10℃-40℃), providing you with a stable power supply from summer to winter.

Quiet Renewable Power

30dB Quiet Power

No Fumes

The working noise volume of Jackery is less than 30dB, even quieter than in a library (40dB). There is no need for gasoline, with no fumes produced, and extremely low maintenance - perfect for home usage. Additionally, save on your wallet whilst being kind to the environment!
Jackery Explorer 1000 Portable Power Station

Affordable Power Station with Large Capacity

Capacity:
1002Wh
AC Output:
1000W
Weight:
22.04 lbs
Appliances
93%

LEARN MORE
How Many Solar Panels Do I Need
Choose One Type of Solar Panel
0 Hrs
Recharging Time
0 Wh
Sustainable Energy Saving
Product Recommendation
Explore Further With Jackery
Off-grid living
RV travel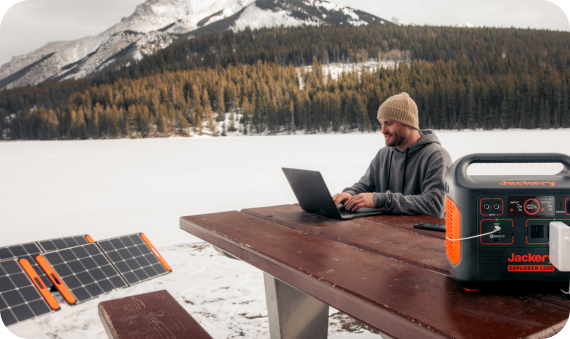 Outdoor work needs
Home backup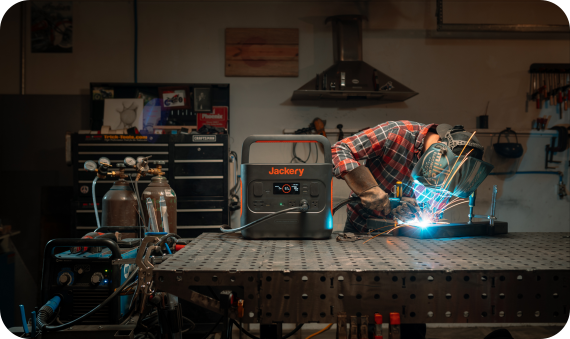 Professional working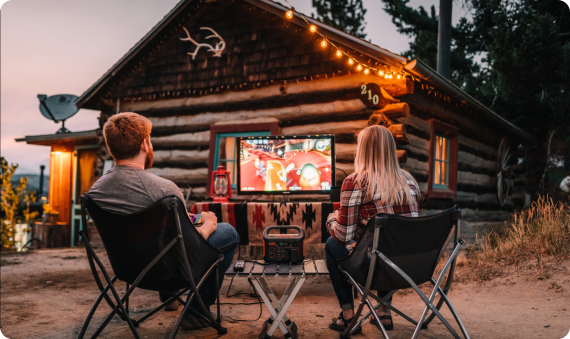 Wet camping and glamping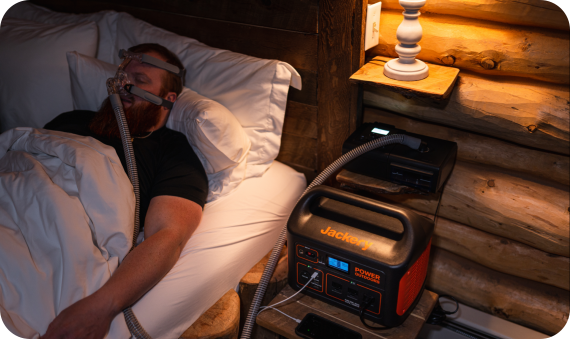 CPAP machine
Light backup
Learn More About Jackery's Products
A green and renewable power solution for outdoor exploration and emergency backup.

LEARN MORE

Easy to carry and set up, soaking energy from the sun for portable power stations.

LEARN MORE

Adapters, cables, connectors, bags, all the Jackery accessories you want are here!

LEARN MORE
More Tips for Your Portable Power Station
Jackery Portable Power Station FAQs
Q: What should I look for when buying a portable power station?

Q: How long will a portable power station last?

Q: How do you charge a portable power station?

Q: Can I leave my Jackery power station plugged in all the time?

Q: Can I replace a battery in the Jackery power station?