Hiking The Wave in Arizona: Everything You Need to Know [2023]
The experience of hiking the Wave in Arizona is one of the most memorable travels worldwide. Winning an incredibly competitive wave permit will get your pulse racing, but the first time you see the Wave's exquisitely elegant patterns will blow your mind.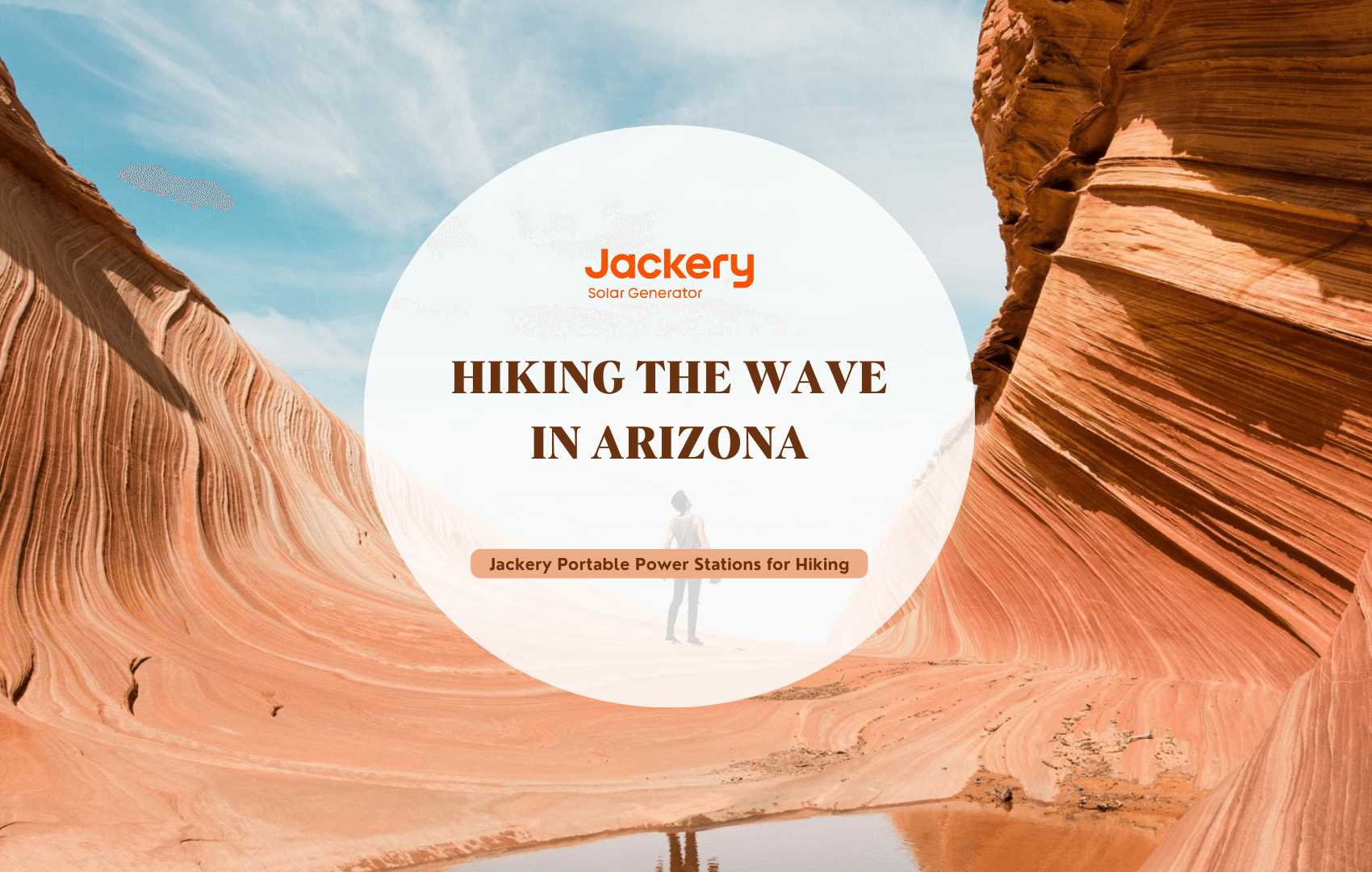 Only a few people per day can visit this iconic sandstone formation in Vermilion Cliffs National Monument, one of the world's most coveted treks. The Navajo Sandstone's smooth striations are unique to this location, which create a smooth, undulating, and otherworldly landscape that resembles ocean waves.    
This page discusses hiking the wave in Arizona, its gear, how to get Permit, and more tips for hiking and photo shooting. We recommend Jackery power stations as your power master when hiking the wave, specifically, the Explorer 300, which is lightweight, user-friendly, and effective.         
 

293Wh capacity to power small hiking appliances
2.5 Hours to full recharge
2*AC output, PD USB-C, QC3.0 USB-A, 12V carport
High-quality MPPT technology
Reasonable price with higher power
What is Hiking The Wave in Arizona
The Wave is a magnificent red sandstone formation that resembles a water wave. The hike to the Wave in the Coyote Buttes North Wilderness Area is 6.3 miles (10.1 kilometers) one way. Because the route to the surge is in a wilderness area, it needs to be better marked.
The trail starts in Utah and concludes in Arizona. Arizona is where the sandstone formation known as The Wave can be found.
Page and Kanab are the closest cities to the Wave. North Coyote Buttes is a location of wilderness. It is a region of fragile rock formations and vibrant hues, dunes, and nature at work. Visiting also necessitates a difficult-to-obtain permit.
Hiking The Wave Statics
Most visitors access Wave from the Wire Pass Trailhead in the North Coyote Buttes permit area of Vermilion Cliffs National Monument. The 6-mile moderate hike is predominantly composed of sand and red rock. Given that some trail is cross-country, you should be equipped with a map and basic navigational skills, particularly given the harsh desert heat.
Trail Type: Out-and-back
Trial Difficulty: Medium
Length: 6 miles
Altitude: above 400 feet
Time Needed: 2-4 hours
When to Visit: Spring & fall
Trail Head: Wire Pass
Permit: Require
Pet Allowed: Yes, for an additional $7 per dog daily (they must always be under your custody, and their waste must be removed).
Where to Start Hiking The Wave
It is a common misconception that the Wave is located in Utah. The Wave Formation is located on the Arizona side of the Utah-Arizona state boundary, approximately one mile away. On the hike to the Wave, you will begin in Utah and finish in Arizona.
The majority of people hike to The Wave Lodge in Kanab, Utah. It is the closest community to the trail-head, with the Wire Pass Trailhead on House Rock Valley Road one hour from downtown. In addition to being a popular base for hiking the Wave, Arizona is only about an hour's journey from town to the trail-head.   
Coyote Buttes North and Coyote Buttes South are two commonly confounded permit areas within the Vermillion Cliffs National Monument. Both of these protected areas are restricted to permit-holding visitors. The Coyote Buttes South permit is much more straightforward to obtain than the Coyote Buttes North permit.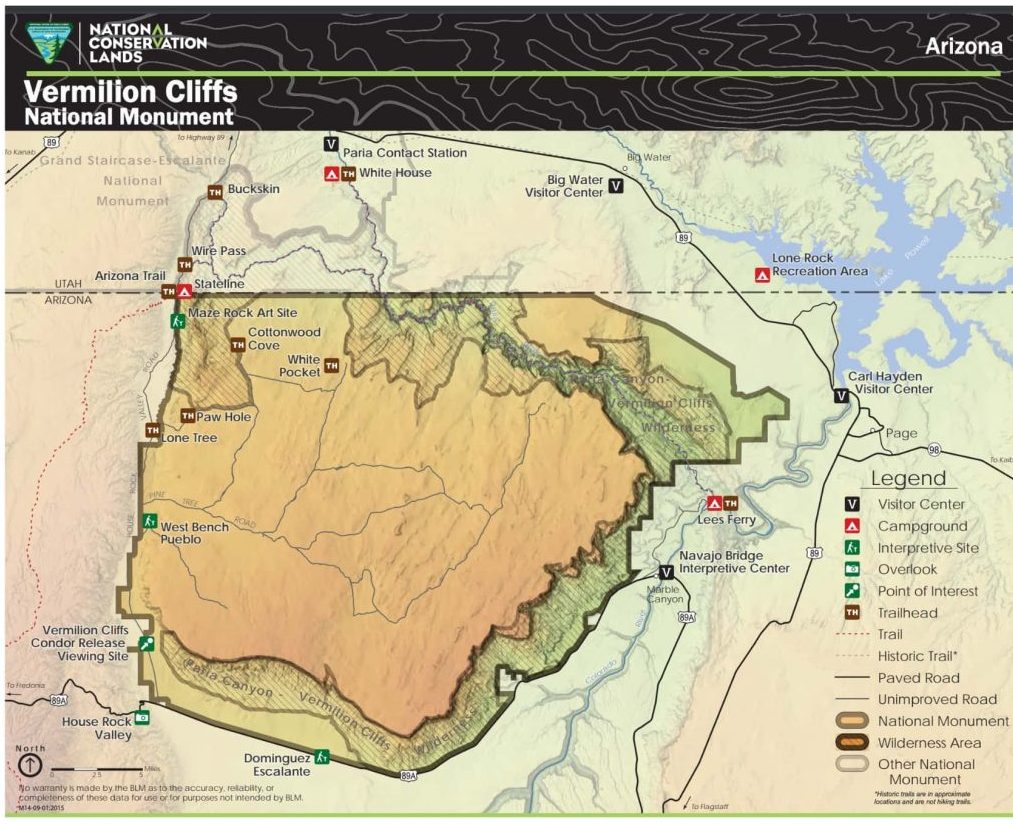 Reference: blm.gov
Hiking The Wave Gear: What to Pack
The Wave is a scorching, dusty, and arid desert environment. You should be prepared with at least 3 liters of water. For convenient hydration, we always recommend a daypack with a hydration reservoir. Additionally, you will need sun protection and hiking boots.  
There is no mobile phone service, and the trail needs to be better marked. If you are still getting familiar with backcountry navigation, you can also carry a GPS and communication device. And the power station is required for powering any electronic devices.          
Jackery Power Station: Provide energy for all your hiking devices and needs.
Day Pack: put your water, refreshments, and all other necessary equipment.
Water Bottle: Maintaining hydration while trekking.        
GPS & Map: A helpful tool in case you lose your way during hiking.
Suncream: To protect you from sunburn.
Hiking Shoes: Conserve energy over extended distances.    
You should purchase a portable power station if you enjoy outdoor activities such as hiking, camping, and fishing. It ensures you can access electricity to charge your devices, operate your appliances, and even guide your hiking.  
How do you plan to contact the authorities if your phone is dead? How do you intend to find your way through the dark forests late at night if you have become disoriented and your flashlight's batteries have run out? You can't. Unless, of course, you have the means to continue powering these devices. This is where a power station enters the picture.    
Whether you are going on a three-day solo hike or a two-week family outing in the forests, Jackery is proud to offer unrivaled power stations and charging options to accommodate any individual's requirements.      
Jackery provides lithium battery residences of superior quality with various environmental safeguards in place. You want to avoid being in the wilderness with a power station that has frozen solid, flooded, or been damaged by dust!
The Explorer 300 power station is the ideal hiking companion for the surge. The Explorer 300 has a 293Wh lithium-ion battery pack and two Pure Sine Wave AC outlets that deliver stable and secure 300W power. Charging 80% of the power station's battery takes only two hours via the wall receptacle and 60W PD USB-C port. You can also recharge your power station at home with an AC outlet, a vehicle outlet while on the road, or Jackery SolarSaga 100W solar panels.  
Series

Capacity

Recharging Time

Ports

Appliances

Explorer 300 Power Station

293Wh

SolarSaga 100W

3.5H

2*AC Output

2*USB-A Output

1*60W PD USB-C

1*12V Car Port

1*12V DC Input

Light(5W) 27H 

GPS(50W) 5H

Phone(29W) 30Charges

Camera(5W) 54Charges

Drone(60W) 5.5Charges

Wall Outlet + USB-C PD 2H

Car Charging 3.7H
How to Get Hiking The Wave Permit
There are two methods to obtain a permit to hike the Wave in Arizona. If you can plan, you should attempt your luck in the online lottery four months in advance on the first of each month.
However, suppose your vacation is unplanned or unsuccessful in the online Wave lottery. In that case, you can also participate in the daily lottery by downloading the recreation.gov app to your phone and entering a virtual lottery beginning March 2022.
Each day, only 64 individuals are issued Wave permits. Permits are granted to 48 individuals or 12 groups via an online lottery system, whichever arrives first. The remaining 16 individuals or four groups, whichever occurs first, are granted permits via a walk-in lottery.
Advanced Online Lottery: Online lottery applications are accepted at 12:00 pm Mountain Time on the first of each month, four months before the desired hiking month. Check the official website: Coyote Buttes North Advanced Lottery.
| | | |
| --- | --- | --- |
| Apply Advanced | For A Permit, During | Lottery Run at 9:00 am. |
| January 1-31 | May | February 1 |
| February 1-28 | June | March 1 |
| March 1-31 | July | April 1 |
| April 1-30 | August | May 1 |
| May 1-31 | September | June 1 |
| June 1-30 | October | July 1 |
| July 1-31 | November | August 1 |
| August 1-31 | December | September 1 |
| September 1-30 | January | October 1 |
| October 1-31 | February | November 1 |
| November 1-30 | March | December 1 |
| December 1-31 | April | January 1 |
Reference: recreation.gov
Daily Lottery: If the advance online lottery is unsuccessful or you want to hike The Wavespontaneously, you can enter the daily lottery through the gov mobile app. Applications must be submitted two days before your trek between 6 am and 6 pm during the lottery application window. You can only enroll via the mobile application; desktop computers are incompatible.
Permits will only be available to app users within a predetermined geographic boundary. To apply for a permit, you must be located in the following regions: 
- Arizona: Page, Marble Canyon, Greenhaven, Jacob Lake, Vermilion Cliffs, White Sage, Moccasin, Fredonia, and the Kaibab Paiute Indian Reservation.
- Utah: Big Water, Johnson Canyon, Paria, Mount Carmel, Kanab, Glendale, Orderville, and East Zion.
Each lottery application must include a non-refundable application fee of $9.00. After obtaining a permit, a $7.00 fee per individual and dog will be assessed. And everyone, regardless of age, must obtain a permit and pay the associated fee. Visit the BLM's Vermilion Cliffs official website for a for a comprehensive list of commonly asked questions and additional details on the permit application process, including the most recent information.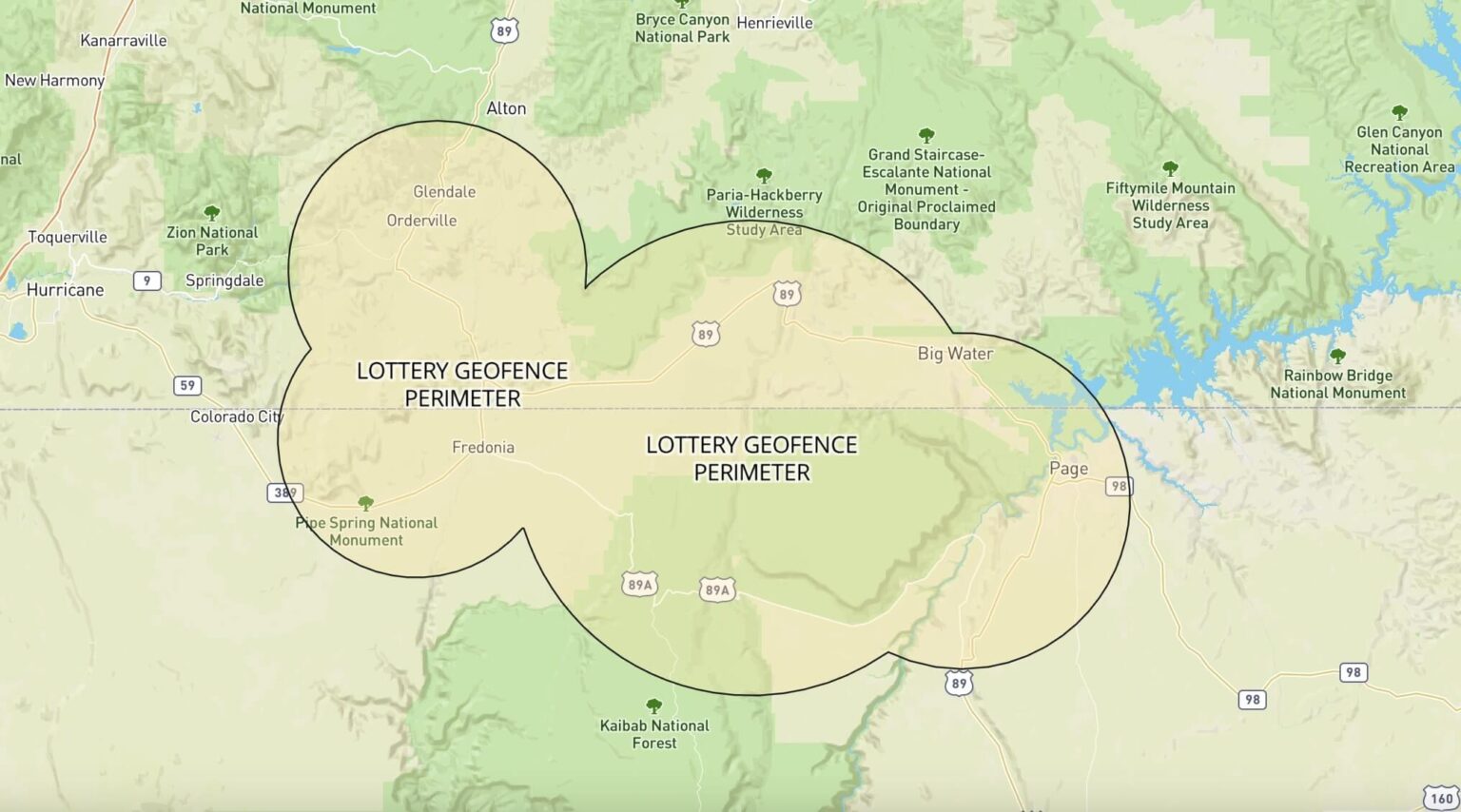 Reference: recreation.gov
What Are The Chances of Winning A Permit?
The most recent probability data on the BLM.gov website date back to 2013. The odds of obtaining an online permit between April and June and September and November were approximately 4-5%. In the remaining months, the probabilities ranged from 8% in August to 25% in January.
What If I Don't Get A Permit?
Obtaining a permit to hike The Wave, whether through the advanced process or the daily lottery, is extremely difficult, and only a tiny percentage of applicants can do so each year. So what if you are not among the fortunate?
You may submit a Coyote Buttes South Permit application, enabling you to hike in a geologically similar and more remote area of the Paria Canyon-Vermilion Cliffs Wilderness with sandstone bluffs and wave formations.       
What If I Want to Change My Group Size or Date When I Get A Permit?
Following the application process, no adjustments or modifications are permitted to permit dates, applicant names, alternate permit holders, or group sizes. The only method to change these details is to cancel the original application and submit a new one, which will incur a $9 application fee.   
Hiking The Wave Tips
The Wave trailhead is located on House Rock Valley Road, an unpaved and gravel road off US Route 89 halfway between Kanab and Page. Nine miles after turning onto House Rock Valley Road, you will reach the Wave and the Wire Pass Trail trailhead.  
In arid conditions, a 4-wheel drive vehicle is not required to reach the Wire Pass Trailhead. However, if it rains, the road becomes highly marshy and slippery.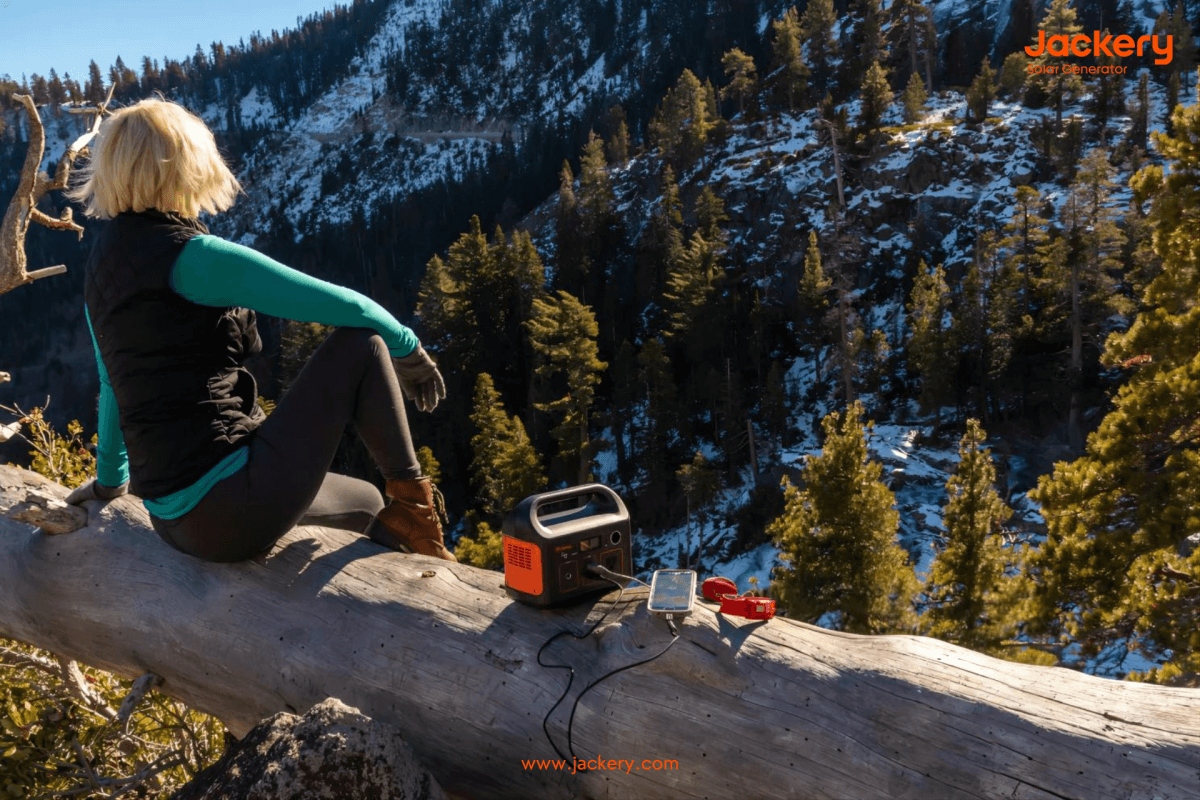 How to Hike The Wave in Arizona
After parking at the trailhead, you may place a permit on the dashboard, sign the logbook, and cross the road to begin the hike. You can choose a guide to lead you deeper into the Coyote Buttes North Wilderness Area as you walk along a watercourse for approximately 0.6 miles.  
When hiking The Wave in Arizona, you should know that the trail needs to be better marked. If you are walking alone, a GPS tracker can be handy. If you do not have a GPS, carefully follow the directions and bring plenty of water, particularly during the summer.
Safety Briefing: There is a safety briefing each morning for daily permit recipients, and the rangers recommend attending the safety briefing the day before your trip if you win the lottery in advance so you will have enough time to prepare.   
Defined Trail: As you enter a wash and cross a field to enter another wash, there is a brief section of a defined trail. You may discover a cairn once you reach the slick rock, but you should use your GPS to navigate.  
Crack in the Cliffs: As you continue trekking, you will encounter exciting butte rock formations. Circumambulate these and take in the breathtaking vistas. You should eventually locate a crack in the cliffs and proceed in that direction. This little canyon provides a stunning entrance to The Wave itself.
Before traversing the trail's final dry bed wash, you will descend a sandy slope gradually. Follow an apparent sand path on the opposite side of the wash, keeping the crack in sight. Look for a steep sand path leading up the right side at the point where sand joins rock. This is one of the more challenging sections of the trail leading to The Wave, but it is brief and will be over quickly.    
Photography Tips for Hiking The Wave
The Wave and the neighboring formations comprise one of the world's most photogenic landscapes. In photographs of The Wave, leading lines, reflections, spirals, patterns, domes, the sun, and shadows will all play a significant role.
Daily, dozens of professional photographers will apply for Wave permits to capture distinctive frames and exposures of the Northern Arizona sandstone landscape. There are some guidelines for taking the finest photographs:
Reflections: There are two distinct locations around the Wave where you can take photographs of new reflections - one within The Wave and the other to the south at a higher elevation.   
Sun & Shadow: The most crucial factor to consider when photographing the Wave is the abundance of light and shadows, which will make or break your exposures.
Sunset or Sunrise: If you want to avoid the crowds and get a unique perspective of the Wave in Arizona, hike out in the late afternoon and photograph the entire area at sunset, then remain out for star photography.  
Hiking The Wave FAQs
The following shows the frequently asked questions about hiking the Wave in Arizona:
1.
When is the best time to hike the wave in Arizona?
March, April, May, September, October, and November are the best months to hike The Wave due to the most pleasant temperatures and the lowest probability of precipitation.
However, spring is the windiest season in the American Southwest, which is something to consider given that sand can stir up and obscure some of The Wave's most beautiful patterns.
Due to the high demand, spring and fall are the most difficult seasons of the year to obtain a permit.
2.
What size of power station do I need for hiking the wave?
A power station is significantly more essential when hiking the Wave, as it will allow you to power your appliances and communicate in an emergency. Jackery power stations are renowned for their exceptional quality, portability, and capacity.
First, determine how much power you need for your hike, then select the power station size for your journey. The Jackery possesses power stations with capacities ranging from 3024Wh to 240Wh. You can choose one based on your requirements. Here is the formula for calculating how long it will take to charge your hiking devices at the Jackery power station:
Working time = solar generator capacity*0.85 / your device's operating wattage
If you charge a 50W GPS for trekking with a Jackery Explorer 300 (293Wh capacity), the GPS will operate for 5 hours (293Wh*0.85/50W).
3.
How long does it take to hike the wave?
The average hiking time to reach the Wave is 90 min. From the trailhead at Wire Pass, the trek is approximately 3 miles one way. Beginning in Wire Pass Wash, the trail ascends out of the wash and up a steep incline to a sandy flat.
You are very near the boundary of North Coyote Buttes from this location. Given that special permits are required to access North Coyote Buttes, we will not provide specific hiking instructions here. When you obtain permits from the BLM, you will receive a detailed map of the trail to the Wave.
Final Thoughts
This region of the American Southwest is home to two expansive national monuments, several national parks, two national forests, and seemingly endless BLM land. People find this incredible piece of sandstone to be intrinsically attractive due to its smooth, undulating form and striking red and yellow stripes.   
This post explains what to expect when hiking the Wave in Arizona and how to prepare and get to the Wave - lastly, bringing a Jackery power station to charge your devices while hiking is far more necessary.
---