The Best Backup Battery for Home [2023 Updated]
The number of blackouts and power outages continues to rise. Because of extreme weather events and deteriorating grid infrastructure, you must be prepared for your home's power to go out. Having a backup battery system for your home is one of the most efficient ways to keep the energy on if there is a disruption in the main power supply.  
Investing in one of the top home battery and backup systems is an excellent method to deliver clean, eco-friendly electricity to your home all year. Here's how to secure a backup battery for your home during a blackout or power outage. 
What is Backup Battery for A Home? 
The term "backup battery for home" refers to a battery storage system that can provide electricity to your entire home in case of emergency or power outage; the length of time it can do so may vary depending on things like your energy usage, the size of your system, and whether or not you're using solar panels to charge it. 
Most battery systems can only power part of your home, so even if the power goes out, they may be unable to maintain your whole house running for a long time. It helps hold essentials like your phone, computer, refrigerator, and lights operational. 
The square of your home and the number of appliances you want to keep working during a blackout will play a role in determining the optimal approach. When planning off-grid electricity for a tiny house, you may have a different solution than you would for a larger home with more equipment. 
Types of Backup Batteries for Home 
Lithium-ion, lead-acid, and flow batteries are used in battery backup systems. Here's a basic rundown of each type: 
Lithium-ion Batteries are the most prevalent batteries for home systems. The majority of today's popular backup battery products are lithium-ion. Lithium-ion batteries, such as Jackery Explorer Power Stations, have the most excellent quality compared to other batteries. They are lightweight and energy-efficient, making them ideal for use at home.
Lead-acid Batteries have been used for hundreds of years and are the most common battery in automobiles. They're less expensive than lithium-ion, but they could be more efficient. Thus they're best suited for compact systems.
Nickel-cadmium Batteries have a high energy density and can store twice as much energy as lead-acid batteries. Nickel-cadmium batteries are highly robust, costly, and perform well in severe temperatures, making them an excellent choice for large-scale commercial and industrial projects. Cadmium, on the other hand, is poisonous and should not be used in the home.
Flow Batteries are less prevalent in home systems because they are primarily for business use. However, the promising technique may soon be widely employed in home battery backup systems.
How Does Backup Battery for Home Work?
The battery stores any excess solar power generated by your home's solar panels when it is determined that your household does not utilize all the electricity. When the solar panels cannot provide enough electricity to satisfy the requirements of the building, the battery's reserve power will be used to make up the difference.
Batteries attached to solar panels will regularly charge and discharge in response to periods without sun. However, you still require electricity, essential when you are "off-grid" or away from electrical utilities.
Suppose you reside where electricity rates fluctuate depending on the time of day. In that case, you can control your system to utilize battery backup at the most expensive periods and grid power at the least expensive times. 
How Does A Jackery Power Station Work? 
Your television, refrigerator, air conditioner, CPAP machine, and other home equipment can be powered via a portable power station, a battery-operated inverter generator with AC outlets, a DC carport, and USB charging power connections. 
Jackery is a renowned manufacturer of top-tier solar energy systems and components like solar panels, power stations, and solar generators. Power stations from Jackery Explorer are fantastic for use as a secondary energy supplier. Compared to other options, it can reduce weight and size by as much as 30%. The ergonomic shape of the carry handle makes it convenient for transport to any destination you could have in mind. 
The Jackery portable power station uses clean, sustainable solar energy to charge electronics around the house. The solar charging cable links the solar panels to the power hub. While solar panels harness the sun's energy, the backup generator keeps home essentials running even when the grid goes down.
Best Backup Batteries for Home 
As storms get more severe and more people are left without lights, air conditioning, or Internet, battery backup power is becoming more vital and popular as a house addition. During a blackout, you should keep the required electricity on, but backing up your entire home relieves you. 
Home Power Watts 
The average American home consumes 10,632 kilowatt-hours (kWh) of power per year, according to the Energy Information Administration (EIA). That works out to 29,130 watts (W) daily, which may be divided by 24 hours to yield an average of 1,214 W to power a home for the day. 
Notably, your home's wattage demand depends on the time of day and where you reside; your power requirements could be as high as several thousand watts at one moment and as low as a few hundred watts at another. 
Appliances

Minimum Wattage

Maximum Wattage

Kitchen

Blender

300W

400W

Coffee Maker

800W

1400W

Dishwasher

1200W

1500W

Refrigerator

100W

200W

Microwave

600W

1700W

Living Room

DVD Player

26W

60W

TV

17W

600W

Stereo Receiver

300W

450W

Video Game Console

100W

150W

Ceiling Fan

60W

70W

Bathroom

Clothes Dryer

1000W

3000W

Washing Machine

450W

500W

Light

60W

100W

Office

Computer

300W

600W

Laptop

50W

100W

Printer

20W

40W
Best Backup Battery for Home with Jackery 
The backup battery for home solutions will be optimal depending on what you need to keep running in a power outage. A focused backup may make more sense than a whole-house solution depending on your home, budget, and electricity consumption needs. Here are the Jackery power stations that can supply electricity for various domestic applications.
Jackery Explorer 3000 Pro Power Station
With its sizeable 3024Wh capacity and massive 3000W power output, the Jackery Explorer 3000 Pro power station is your SMART power master. The perfect power source for camping, RVs, off-grid living, and home uses, as it can charge 99% of the equipment for a longer duration and can be controlled through a smartphone. 
With an astounding 2,000 life cycle and up to 70% efficiency, the Explorer 3000 Pro power station is highly efficient to LIB. It is a high-capacity battery pack for people who need to run larger, higher-output loads or are in situations calling for a lot of extra juice. It can also serve as an RV's primary solar power system or as a replacement for the RV's electrical setup. 
The Explorer 3000 Pro's battery management system (BMS) is capable of a staggering 80 million checks each second, ensuring the battery is never overcharged or discharged. Its efficiency in releasing heat has also been improved—by 30%. The nine temperature sensors and adjustable fan speed are responsible for this. 
Product Specs
Capacity: 3024Wh Capacity, 3000W Inverter, 6000W Surge
Output Ports: 5*AC outputs (120V, 60Hz 20A Max x 4, 120V, 60Hz 25A Max), 2*USB-A outputs (Quick Charge 3.0x2, 18W Max), 2*USB-C outputs (100W Max, 5V, 9V, 12V, 15V, 20V up to 5A), 1*car port (12V⎓10A).
Recharging Methods: Using 6*SolarSaga 100W solar panels, a full charge takes 6–7.5 hours instead of 2.4 hours using a wall outlet. Or you can charge the power station via a carport.
Design: The lightweight, compact, and space-saving Jackery Explorer 3000 Pro incorporates an aluminum alloy draw rod and a non-slip silicone strip. Benefit from lightning-fast setup and unmatched charging efficiency. Get the solar panels wired up to the grid as soon as possible. Much easier to use and more realistic than traditional power stations. 
Customer Review 
"This is one of those buys that gives you everything you expect, and then you realize it does even more. It equips with wheels and a handle that makes it easier to handle the weight. I use it connected to the panels, which let me run all types of appliances in my home."
Jackery Explorer 2000 Pro Power Station
With a battery capacity 2160Wh and an output power of 2200W, the Jackery Explorer 2000 Pro Portable Power Station can simultaneously charge up to 8 devices. When you need power while camping or during a blackout, the Explorer 2000 Pro has you covered. The best option is because of its superior features, such as fast AC input charging (just 2 hours) and general safety provided by an innovative battery management system (BMS).
Everything from microwaves to full-sized refrigerators to air conditioners can be powered by Jackery Explorer 2000 Pro. If you use your Jackery Explorer 2000 Pro twice a week, you may expect it to endure up to 10 years! It is a highly reliable emergency backup power supply because it may be placed on standby for over a year at full power.
Product Specs
Capacity: 2160Wh Capacity, 2200W Inverter, 4400W Surge
Output Ports: 3*AC outputs (120V, 60Hz, 2,200W), 2*USB-A outputs (Quick Charge 3.0, 18W Max), 2*USB-C outputs (100W Max, 5V, 9V, 12V, 15V, 20V up to 5A), 1*car port (12V⎓10A).
Recharging Methods: The Explorer 2000 Pro can be fully charged from a dead battery in about 2.5 hours when using 6*SolarSaga 200W solar panels, 2 hours when using an AC power outlet, and 1.5 hours when using a carport.
Design: The Explorer 2000 Pro power station, weighing about 19.5 kilograms (53 pounds), has a foldable handle for easy transport. Pressing the button lets you have a great charging experience at home in seconds. The high-tech SMART screen displays 18 operating states, allowing you to identify and understand different usage states effectively.
Customer Review 
"The Jackery Explorer 2000 Pro uses Lithium-ion battery cells, which are very safe, long-lasting life, lightweight, and constant power. Those are essential qualities for me in a large battery like this. The upgraded AC/DC inverter can output up to 2200W, with the peak at 4400W, which can run almost any appliance in my house."
Jackery Explorer 1500 Pro Power Station
You can power up 95% of your daily necessities with the Jackery Explorer 1500 Pro Portable Power Station. The lightweight design of just 37.4 pounds and a battery capacity 1512Wh makes it ideal for use in the great outdoors. The Explorer 1500 Pro has a cutting-edge BMS with 12 layers of protection, an advanced EMI design, and an unrivaled cooling system in the industry. Go wherever your curiosity takes you!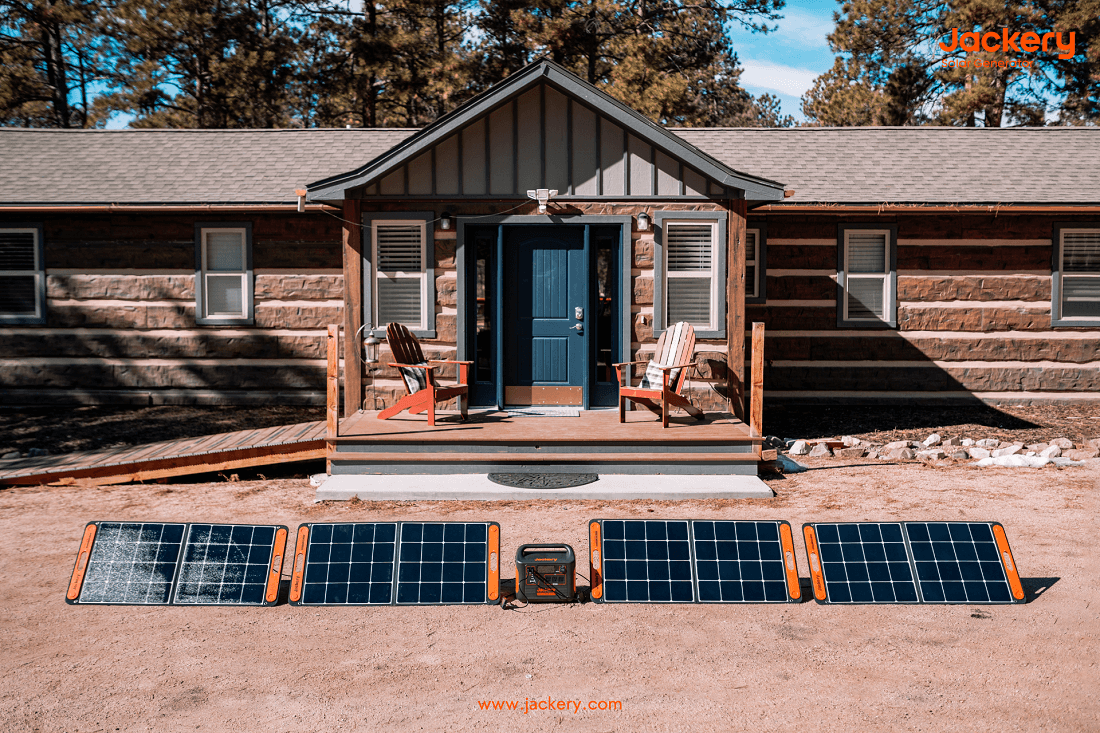 After at least 2000 cycles, the 1500 Pro's capacity drops to 70% of its initial level. That's a lot of recharges; the 1500 Pro could be used for roughly five years while maintaining 70% of its original capacity if charged and drained twice a week. It is also a highly reliable backup battery for home because it may be left at full power for over a year.   
Product Specs
Capacity: 1512Wh Capacity, 1800W Inverter, 3600W Surge
Output Ports: 3*AC outputs (120V, 60Hz, 1,800W), 2*USB-A outputs (Quick Charge 3.0x2, 18W Max), 2*USB-C outputs (100W Max, 5V, 9V, 12V, 15V, 20V up to 5A), 1*car port (12V⎓10A).
Recharging Methods: The solar charging experience is even faster than quick charging. With a maximum of 1,400W of solar power input and an incredible 2H of wall charging time (6*SolarSaga 200W solar panels), solar charging has been revived with a 2-hour solar charge. Jackery Solar is more than ready to go on an expedition with you.
Design: The Explorer 1500 Pro by Jackery weighs just 37.4 lb., making it 20% lighter than competing models of the same capacity. Thanks to the ergonomic folding handle, it's easy to transport anywhere you need to go. The new and improved Smart Screen conveniently shows the remaining power charging status and other details.
Customer Review 
"A beast of a power station, the Jackery Explorer 1500 Pro has a huge 1512Wh capacity, making it a great choice for power-hungry people who spend much time off the grid or home backup power. It's simple to use with an excellent display and is brilliantly built with a comfortable carry handle."
Series

Capacity

AC Output

Appliances Watts

Working Hours

3024Wh (70Ah, 43.2V)

3000W Max (6000W Peak)

Blender: 300W-400W

Coffee Maker: 800W-1400W

Refrigerator: 100W-200W

Microwave: 600W-1700W

Clothes Dryer: 1000W-3000W

Computer: 300W-600W

Blender: 6H-8.1H

Coffee Maker: 1.7H-3H

Refrigerator: 12.1H-24.2H

Microwave: 1.4H-4H

Clothes Dryer: 2.4H-0.8H

Computer: 4H-8.1H

2160Wh (43.2V, 50Ah)

2200W (4400W Peak)

Blender: 300W-400W

Coffee Maker: 800W-1400W

Refrigerator: 100W-200W

Microwave: 600W-1700W

Clothes Dryer: 1000W-3000W

Computer: 300W-600W

Blender: 4.3H-5.8H

Coffee Maker: 1.2H-2.2H

Refrigerator: 8.6H-17.3H

Microwave: 1H-2.9H

Clothes Dryer: 37Min-1.7H

Computer: 2.9H-5.8H

1512Wh (43.2V, 35Ah)

1800W (3600W Peak)

Blender: 300W-400W

Coffee Maker: 800W-1400W

Refrigerator: 100W-200W

Microwave: 600W-1700W

Clothes Dryer: 1000W-3000W

Computer: 300W-600W

Blender: 3H-4H

Coffee Maker: 0.9H-1.5H

Refrigerator: 6H-12.1H

Microwave: 45Min-2H

Clothes Dryer: 26Min-1.2H

Computer: 2H-4H
How to Choose A Backup Battery for a Home? 
You need a whole-house backup battery system if you frequently encounter power outages, are sick of going without power, or have to pick and choose which items you can back up with a small battery or generator. Some things to think about when comparing various battery systems are listed below.
Backup Battery Capacity 
The size of the battery system is the most crucial consideration for a whole-house backup. The total system size equals the sum of the individual battery capacities multiplied by the number of batteries in the stack. It is possible to purchase huge batteries from some manufacturers, while others allow you to connect several smaller ones in series.  
Number of Blackouts 
A power failure can affect anyone, regardless of where they live. However, if power outages are few and short-lived, you may only need a little backup power as someone who often encounters blackouts due to weather occurrences.  
Energy Management System 
Energy management systems are sets of hardware that do more than keep tabs on your power consumption; they also let you manipulate it. They can completely replace your old electrical panel or connect to the existing circuit wires. To take advantage of your battery, you may maximize its capacity and power by automatically programming your energy management system to turn on and off loads via the accompanying software.   
Your Budget 
The extent of your investment may be limited by your financial means. If you're on a tight budget, begin with a Jackery Explorer power station or smaller battery and gradually expand your system with additional intelligent batteries, solar panels, and a smart panel. 
Backup Battery for Home FAQs 
The following shows the frequently asked questions about backup batteries for home:    
What size of power station do I need for my home?
During a blackout or power outage, having a portable power station that can charge your home's appliances in an emergency or while you're away from the grid becomes very important. Jackery Explorer power stations are fantastic for the house because of their durability, portability, and security, and they can run many common household appliances.
Before choosing a power station, estimating how much electricity your home will need is essential. Choose from Jackery power stations with capacities between 3000Wh and 240Wh, depending on your requirements. Here's how to figure out how long it'll take to charge your various household gadgets:
Working time = power station capacity*0.85 / your device's operating wattage
For example, using a Jackery Explorer 3000 Pro (3024Wh capacity) to charge an 800W coffee maker will last 3 hours (3024Wh*0.85/800W).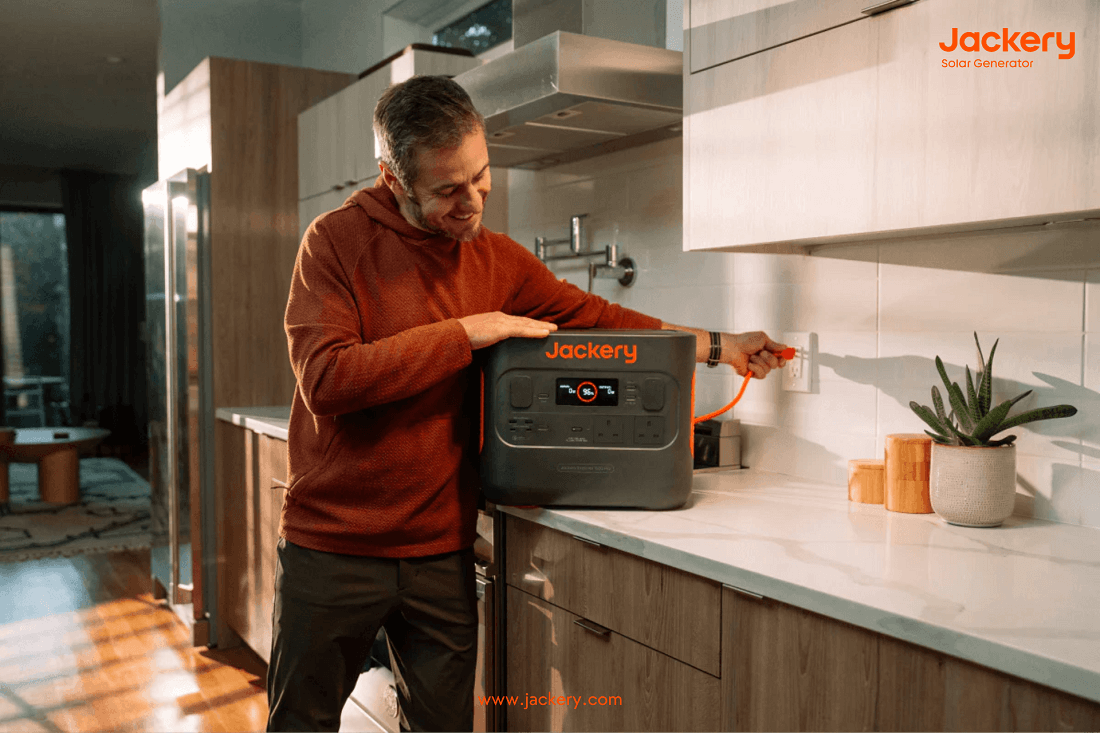 Can I install my backup battery for home?
If you wish to get completely off the grid, have a backup supply in the event of an outage, or reduce your power bill during peak hours, a skilled solar electricity system installer can advise you on the best battery to achieve your goals. 
Jackery Explorer power stations have a folding handle for convenience when traveling. An exceptional charging experience indoors and outdoors is just a button press away. Jackery power stations require no setup; all that's needed is a button push.
Is there a backup battery for the home?
Solar backup batteries for homes are powered by electricity and can function independently or as a part of a residential solar energy system. Your backup battery system will immediately turn on when the power goes out and keep your lights on for a day or more. Our Jackery Solar Generators consist of a portable power station and solar panels to provide electricity for your home using solar energy, making them an easy and economical choice for backup power.
Final Thoughts
Those who care about power safety or security should consider purchasing a backup battery for the home. As we've gone over, these backup systems keep your home safe by supplying electricity to your appliances during a power outage. 
Have you considered getting a whole house or partial backup battery system? Power outages can happen anywhere and anytime, so having a Jackery Explorer portable power station in place is a wise investment for anyone looking to power their home and appliances.                                       
---