Ultimate Guide to Hiking in The Rain
Hiking is a great way to connect with raw nature and have a sensory experience. Imagine it starts raining while you are hiking. You can either get petrified or you will enjoy your excursion even more.  So, you can make hiking in the rain more comfortable and enjoyable if you choose a suitable and safe location. The other thing is to keep proper gear with you to keep you dry.
In this guide, we will share tips for hiking in the rain to make your trip sage and fun. You need the right gear, a positive mindset and a suitable location.
 

1. Lightweight and portable.

2. It charges really fast using solar panels and can also be charged with an AC outlet and car port.

3. Multiple output ports allow charging more than one device simultaneously.

4. Emissions-free energy source and reliable battery management system.

5. No fuel cost.
Hiking in The Rain? Is It Fun?
Yes, hiking in rain is absolute fun and a very exclusive experience. It gives you a feeling of tranquility and an extraordinary sensory experience.
The hiking trails usually get empty when it rains so you can have it all to yourself and have that spiritual experience.
While people might not be comfortable but the wild life loves rains. So, when you are hiking in rain, you will be able to watch animals and birds that you dont see usually.
Rain and nature make an extraordinary sensory experience. The birds chirp louder, the smell is divine, the feel on skin is superb, what else do we need?
It is more challenging to hike in rain thus better for your physical strength and for your self esteem.
Hiking in The Rain Gear: What to Pack
The first thing to consider while packing for a hiking rain trip is to arrange a backpack that is waterproof with water resistant zips and easy to access pockets. Adding a raincover for your vulnerable gear is also important where you can keep your phone, camera and other gadgets.
Ziplock plastic bags and trash bags.
Trekking poles are a great help when the surface is slippery.
In winters, hand warmers keep you comfortably warm.
Headlamp when light gets really low.
Quick-dry synthetic material of multi-towels had many purposes. You can use them to dry off your body, gear, or stuff around you.
Disposable hand and foot warmers are essential for winter hiking in rain to keep you comfortable and safe.
Technology might not be very reliable while it's raining so it is always important to carry a physical map with you with a waterproof map holder. Alternatively, you can invest in a water resistant or waterproof map of the area you will be in.
If you expect to camp while hiking, a durable waterproof tent will keep you dry while sleeping.
Bug spray to avoid bug bites.
Since it is an era of technology, you will need some power source to charge your gadgets, navigation tools and phones to keep connected. The best recommendation is to use a solar generator that can keep your devices ready to use without any fuel. The Jackery solar generator 300 is a great fit because it is lightweight, portable and weather resistant. It offers 293 Wh capacity and can charge multiple devices simultaneously.
Keep water and make sure to sip frequently.
Nuts and dried fruit can be kept in a ziploc bag, are energy packed and easy to carry. Avoid picnic lunches that can get wet. Also you might not get time and comfort to sit and have a hearty meal.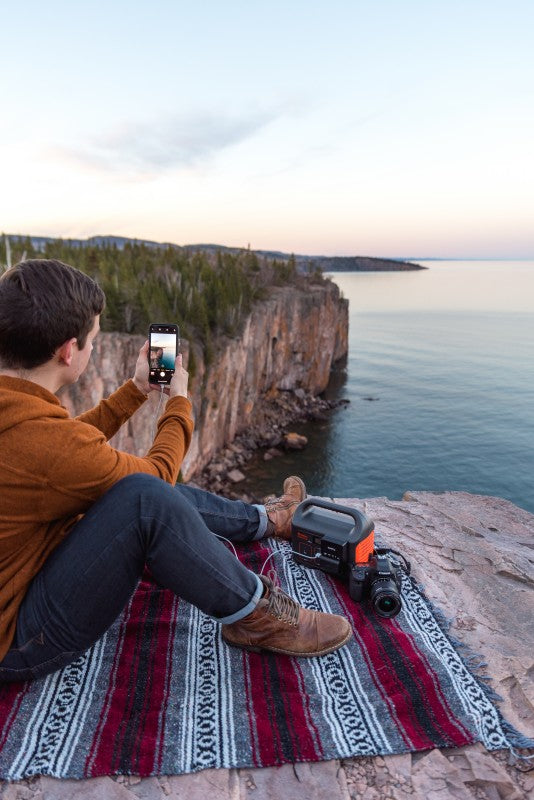 Series

Capacity

Recharging Time

Ports

Appliances

293Wh

Solar Charging - 1* SolarSaga 100W Solar Panel:  3.5 hours(0-80%)

AC Output: 110V, 60Hz, 300W (500W Surge)
USB-A Output: 5V, 2.4A
Quick Charge 3.0 Output: 5-6.5V, 3A / 6.5-9V, 2A / 9-12V, 1.5A
USB-C PD Output: 5V, 9V, 15V, 20V, 3A
Car Output: 12V, 10A
DC Input: 12V-30V (90W Max)

Fan(20W) - 15Hours
Laptop - 4 charges
Mini Cooler - 5 Hours
Phone - 30 Charges
Light(5W)  - 27 Hours
Camera(5W) - 54 Charges

Wall Charging - Within 3.5 Hours(0-80%)

Wall outlet + USB-C PD within 2H (0-80%)

Car Charging - 3.7H(0-80%)
What to Wear When Hiking in The Rain
You need clothing that dries quickly and wicks moisture away from your skin while hiking in rain. So, the best materials are synthetic fabrics, like polyester and nylon. Following is a weather appropriate list for clothes to pack for your hiking trip.
Summer:
Hiking pants or running shorts
Ultralight rain jacket
Rain pants
A hat that can shade your eyes
Lightweight synthetic T shirt 
Fall/winter:
Hiking pants
Rain jacket
Rain pants
Long-sleeve baselayer/quarter-zip top
Baseball hat
A warm hat, a fleece pullover, liner gloves, rain mitts
A dry down jacket
Cozy socks for use in camp and for sleeping
How to Prepare for Hiking in The Rain 
The first step to preparation for hiking in the rain is to choose the right trail that is safe and appropriately challenging for your skill. A difficult trail might be dangerous for a beginner and an easy one might not be exciting enough for a pro. The best trails are the ones that are forested as the trees provide good safeguard from wind and rain. On the other hand, steep trains can be slippery and water can accumulate.
Secondly, check the weather forecast even on the morning of the day when you are leaving. It helps you plan accordingly and also avoid if the weather can get very harsh.
Dress up accordingly and avoid stuffs including cotton that can hold moisture. Also, gaiters also help to avoid waterlogged feet and sock liners help you as well.
Waterproof your backpack and also consider packing small waterproof bags to keep your gadgets.
When you're hiking in the rain, trekking poles are also essential whether you use them or not in regular hiking.
Hiking in The Rain Tips
Staying dry is easier than drying out after getting wet.
Frequently check the weather as it may change unexpectedly.
Make arrangements and learn how to take cover in lighting.
Keep a check on your physical condition and act accordingly. If you feel cold, add layers, keep munching snacks and sip water.
If the weather gets too bad and hazardous, then ditch your further plan and move back. It can get worse rather quickly and you might get stuck.
Keep a solar generator with you in your base camp. In case you have to spend a long time on your hiking trip whether planned or in an emergency situation, you need to power and charge your equipment, especially your phone, navigation equipment, lights etc. A portable and lightweight Jackery solar generator 300 serves the purpose perfectly.
Find more "camping in the rain" tips.  
Where to Try Hiking in the Rain
If you are in the US, there are plenty of hiking trails and camping sites where hiking in the rain is possible and fun. Following are the best three destinations for hiking in the rain in the US that you can try and we are sure you will love.
1.
 

Sandstone Peak, Los Angeles

It is the best trail to hike in the rain as it is forested and vast. It is so clean and so calming with crystal clear views of the Pacific Ocean and Channel Islands.You can have views of the San Fernando Valley, stretching from the San Gabriels and going up to the way north to the Santa Susana and Sierra Madre ranges.
2.
 

Hoh Rainforest, Washington

This rainforest is in the Olympic National Parkand has the most wonderful natural growth of green ferns, fungi, and evergreen trees. You have access to the Hoh Rainforest Campground within the rainforest so it is great even for beginners. Enjoy hiking in the rain with waterfalls and absolutely green moss covered trees.
3.
 

Cashiers, North Carolina

Cashiers is one of the rainiest places in the US with 81 inches of rain per year. It is surrounded by hiking trails, waterfalls, and mountains galore. A perfect place for hiking in the rain with dispersed camping between the Blue Ridge mountains.
Hiking in The Rain FAQs
1.
 

What size of solar generator do I need when hiking in the rain?

You only need a small portable and lightweight generator like Jackery solar generator 300. We recommend a small generator because you will not want to run more energy hungry equipment while hiking in the rain. You just need some backup power for your gadgets or maybe lights.

How to calculate the hours: Working time = Capacity Wh * 0.85 / operating wattage of your device

For example, assuming the power consumption of your gadgets is 125 Watts..

The Jackery Solar Generator 300, working time will be 293Wh * 0.85 / 125w = 2 hrs. This 0.85 is to incorporate the power loss during operation to make the estimates more realistic.
2.
 

Is hiking in the rain safe?

When hiking during or after very heavy rains, it's a good idea to take a little extra caution and watch your footing around any steep drainages, along hillsides, some shorelines and on snowfields. Drainages around recent fire activity can be particularly unstable to mud and debris flows.
3.
 

Are there any benefits when hiking in the rain? How to enjoy hiking in the rain?

Absolutely yes, there are many benefits that you get while hiking in the rain. It is a multi-sensory experience as the air is cleaner and fresher. Also, breathing in clean air has many health benefits. Your skin will also love the moisture and touch of rain water.

You also burn more calories when you hike in the rain as it is more challenging and you have to use more energy.

You will make precious memories and also great photographs in the bright day light and beautiful natural scenes.

But then it is equally important to remain safe and sound in your adventure. Here are some tips to enjoy your hiking trip.
Keep proper gear with you.
Pack for emergencies as well like a tent even if you are not planning to camp.
Keep a positive mindset.
Pack enough food and water.
Keep a map to decrease your dependency on technology. On the other hand, keep a solar power generator to keep your devices and equipment charged and running.
Monitor weather frequently.
Do not cross rivers and streams while it's raining. It can get worse rather fast.
Final Thoughts
Rain is love, it is fresh, invigorating, and healthy. Nature is at its best at this time so hiking in the rain is a great opportunity to connect with the greenery, air, sounds and wildlife. It is essential to make every preparation to keep yourself safe and your trip smooth. The above guide is a detailed walkthrough to what you should pack, how to enjoy more and the best destinations for hiking in the rain in the US. The Jackery solar generators will make your trip more memorable and frustration free as you will be able to charge and use most of your gadgets and connect with the world.
---