Bass Fishing 101: How to Catch Bass
Like a pro, bass fishing begins with understanding the fundamentals and then adopting the experts' tips and tactics to capture more fish.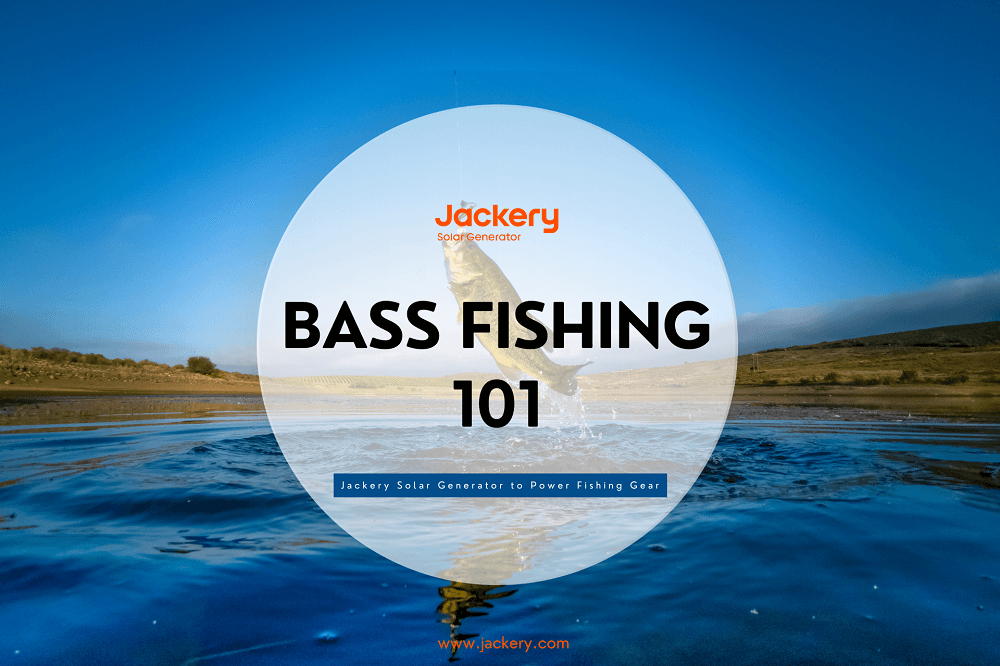 Largemouth bass are America's most popular game fish because they are easily accessible. Largemouths are nearby no matter where you reside. Furthermore, catching giants does not require an expensive boat or a plethora of pricey equipment.   
The same can be said about smallmouth bass, which is second only to largemouth in popularity. Even if there are lots of bass in waters across the country, the best bass fishing techniques are still required to catch them consistently.
This detailed bass fishing guide includes all you need to know about bass behaviors and species, fishing gear, tips, and techniques. We highly recommend Jackery Solar Generators for your fishing power needs, and the Solar Generator 1000 Pro is ideal for bass fishing with a capacity of 1002Wh, which can power most of your appliances, including your boat.                            
 

- 1002Wh Capacity, 1000W Inverter, 2000W Surge

- Quick Solar Charging in 1.8 Hours

- Use Weekly for 10+ Years

- Waterproof, Foldable & Portable Solar Panels

- 3+2 Years Warranty
Why Is Bass Fishing So Popular
People enjoy bass fishing because of the ease with which they may be caught and how simple it is to begin started. It does not require particular bass fishing tackle, poles, or lures. It also doesn't require an exceptionally high level of skill.
Largemouth bass fishing may be done in almost any place, including Florida. Bass fishing can be found in practically any body of water. They are quickly drawn to artificial lures, worms, and other smaller natural baits, making them ideal for people of various skill levels, ages, and financial resources. Furthermore, fly fishermen that specialize in catching bass enjoy catching them.
Because bass are aggressive fish, they are delightful for active fishing. They are bold, and only some have easy access to them. They usually go for a lot of live bait throughout their range without help.  
Bass Species
In North America, bass is the most sought-after game fish, and its fame has now extended worldwide. Bass is a hard-fighting, aggressive, widely dispersed gamefish that will bite various lures and can survive in practically any habitat.   
Largemouth Bass: They were brought into California in 1891 from Quincy, Illinois, into Lake Cuyamaca and are now widespread throughout the state. There are two subspecies identified: the northern subspecies and the Florida subspecies.    
Smallmouth Bass: They were brought into California in 1874 in the Napa River from Lake Champlain, New York. According to historical sources, anglers "fished out" the first plant, and the introduction was deemed unsuccessful.   
Spotted Bass: They are classified into three subspecies; however, only the northern spotted bass, also known as the Kentucky and Alabama spotted bass, have been imported into California. Although spotted bass are similar in color to largemouth bass, they can be differentiated by a more petite mouth and the connection of the first and second dorsal fins.
Bass Fishing Equipment & Gear
With many alternatives on tackle store shelves, picking the right line for bass fishing can take time and effort. The ideal line can also differ depending on the tactic, but if you're looking for a "middle-of-the-road" solution that will perform well across a wide range of approaches, go with a 20-pound braided line.
Though it has a breaking strength of 20 pounds, its diameter is equivalent to an 8-pound monofilament, which means you can pack a lot on a medium-sized spinning reel or standard-sized bait caster and deliver any lure correctly and over great distances.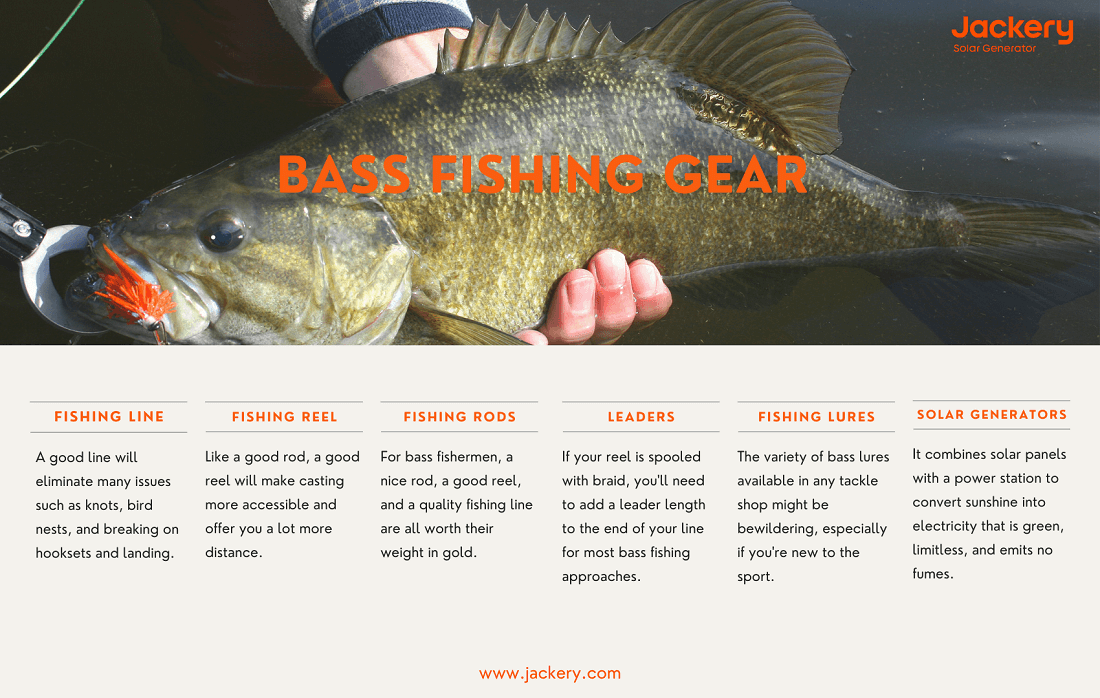 1. Fishing Line: A good line will eliminate many issues such as knots, bird nests, and breaking on hooksets and landing fish.  
2. Fishing Reel: Like a good rod, a good reel will make casting more accessible and offer you a lot more distance. It will also help you in the fight with a solid drag to keep you from breaking off a big fish.   
3. Fishing Rods: For bass fishermen, a nice rod, a good reel, and a quality fishing line are all worth their weight in gold. While any rod will catch bass, a good rod will make casting and fishing particular lures easier and more productive than others.   
4. Leaders: If your reel is spooled with braid, you'll need to add a leader length to the end of your line for most bass fishing approaches.    
5. Bass Fishing Lures: The variety of bass lures available in any tackle shop might be bewildering, especially if you're new to the sport. So many different types of baits are created for different situations and seasons, narrowing them down to the most excellent "all-around" lure is difficult.
6. Jackery Solar Generator: It combines solar panels with a power station to convert sunshine into electricity that is green, limitless, and emits no fumes. You must own one to ensure that your gadgets have power and are connected in an accident in which you cannot interact with others.
If you have many fishing gears or want to outfit your boat, solar generators can be a great way to power several of your electronics, especially if you're far from shore. Whether you fish in saltwater or freshwater, a solar generator can save money on energy and reduce your carbon footprint. Not to mention that gas turbines are highly noisy, contaminate the environment with hazardous fumes and greenhouse gases, and have the potential to scare away fish!
Jackery is a well-known manufacturer of high-quality solar equipment, including solar panels, power stations, and solar generators. Jackery Solar Generators combine Explorer portable power stations with SolarSaga solar panels. Our solar generators transform solar energy into electrical power using solar panels and store it in a portable power station for later use. Solar generators from Jackery provide clean and dependable power for fishing, hiking, camping, RVs, and anyone who requires backup energy during an emergency.

Jackery solar generators are well-known in the global solar market for their durability, portability, and distinctiveness. They offer plenty of AC outlets, DC carports, and USB charging points for your climbing equipment. The pass-through charging mechanism lets you simultaneously charge the appliances and the power station.
With a capacity of 518Wh, a 500W inverter, and a surge power of 1000W, the Jackery Solar Generator 500 is a solar solution that combines the Explorer 500 portable power station and the SolarSaga 100W solar panel. It has three USB connections, one AC outlet, and a 12V automobile output, and it transforms solar energy to deliver reliable PURE SINE WAVE power to everyday electronics and small appliances such as lamps, laptops, phones, small fridges, CPAP machines, and other devices.
Series

Capacity

Ports

Recharge Time

Fishing Electronics

Jackery Solar Generator 500

518Wh

3*USB Outputs

1*AC Output

1*12V Carport

2*DC Output

1*DC Input

1*SolarSaga 100W: 9.5H

Fishing Reel(60W): 7H

Fishing Rod(10W): 44H

USB Lure(2.5W): 176H

Fish Finder(150W): 3H

Fishing Cooler(60W): 7.3H

AC Adapter: 7.5H

12V Car Adaptor: 7.5H
Jackery Solar Generator 1000 Pro, a "more than fast solar generator" for on-the-go power! It is made up of Explorer 1000 Pro and SolarSaga 200W solar panels. The silent solar generator has a 10-year lifespan and can be fully charged in 1.8 hours. Its twin 100W PD architecture provides consistent power, charging all essential gadgets during power outages and when living off-grid.
The 1000 Pro rechargeable solar generator can power up to 93% of appliances, including a refrigerator, CPAP machine, e-bike, and even a sump pump. It also has 2* USB-C and 2* 100W PD ports for charging your phone, fishing reel, fish finder, and other devices.
Series

Capacity

Ports

Recharge Time

Fishing Electronics

Jackery Solar Generator 1000 Pro

1002Wh

1*USB-A 18W Max

2*USB-C Output PD 100W MAX

1*Car Port 120W (12V/10A)

3*AC Output (1000W, 2000W Surge Peak)

4*SolarSaga 200W: 1.8H

 

Fishing Reel(60W): 13.4H

Fishing Rod(10W): 80.2H

USB Lure(2.5W): 340H

Fish Finder(150W): 5.3H

Fishing Cooler(60W): 13.4H

Phone(18W) 44.5H

Light(5W) 160.3H

Fan(15W) 53.4H

2*SolarSaga 80W: 9H

AC Adapter: 1.8H

12V Car Adaptor: 12H
When & Where to Go Bass Fishing
Most folks fish whenever they can. Some will even organize their trips around the weather. However, most people must pick and choose when they can fish.
Low-light situations can work in your favor. Sunrise and sunset are excellent times to target bass if you only have a few hours. They have a considerable feeding advantage when they are more disguised and can see better with the sunlight subdued. As a result, they are most active in low light.
Bass fishing at night becomes popular in the warmer months for the same reasons. Also, because bass fishing comes up in the spring, concentrating your efforts on spring and early summer, bass fishing will boost your chances.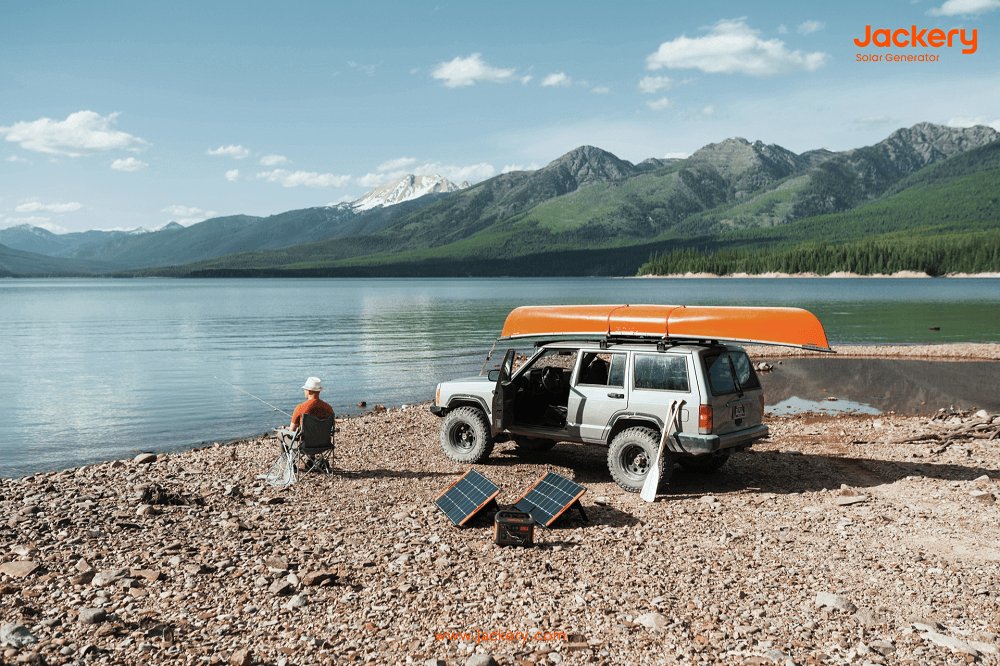 Largemouth bass is the most common species in the country, so there should be plenty of options for bass fishing nearby. Bass fishing can be found in ponds, streams, rivers, natural lakes, and artificial reservoirs. If the body of water has a lot of colors, forage, and clear water, you've got a recipe for outstanding bass fishing.
Bass is drawn to cover. Anything that gives cover and shade is your best bet. Fish frequently forage in the shallows early and late in the day, especially during warmer weather. During the day, they like to move into deeper water.    
How to Find Bass  
The ability to find fish is what distinguishes excellent fishermen from average fishermen. Bass fishing is about understanding where the bass is in their life cycles and maximizing your chances of getting them to bite.
Finding the bait is one of the most important aspects of capturing bass, whether minnows or shad. That may be crawfish. It could be baby bluegills. We've even seen blackbirds among the reeds on occasion. Finding bait indicates that something will keep bass in that region.
Then it would be best if you were aware of the yearly rhythms of nature. A bass's life cycle revolves around seasons, moon phases, and foraging movements. We all know that bass spawns when the water temperature rises above 65 degrees in the spring. As a result, they will go shallower out of their deep haunts in search of external protective locations to breed.  
Bass Fishing Techniques & Tips
Bass fishing is a challenging pastime if you aren't adequately equipped, whether you're a competitive sports angler or want to enjoy a great afternoon with your family on the lake. There are just too many techniques to cover in a single essay. However, we will include a few examples and tips for more in-depth examinations of the topics.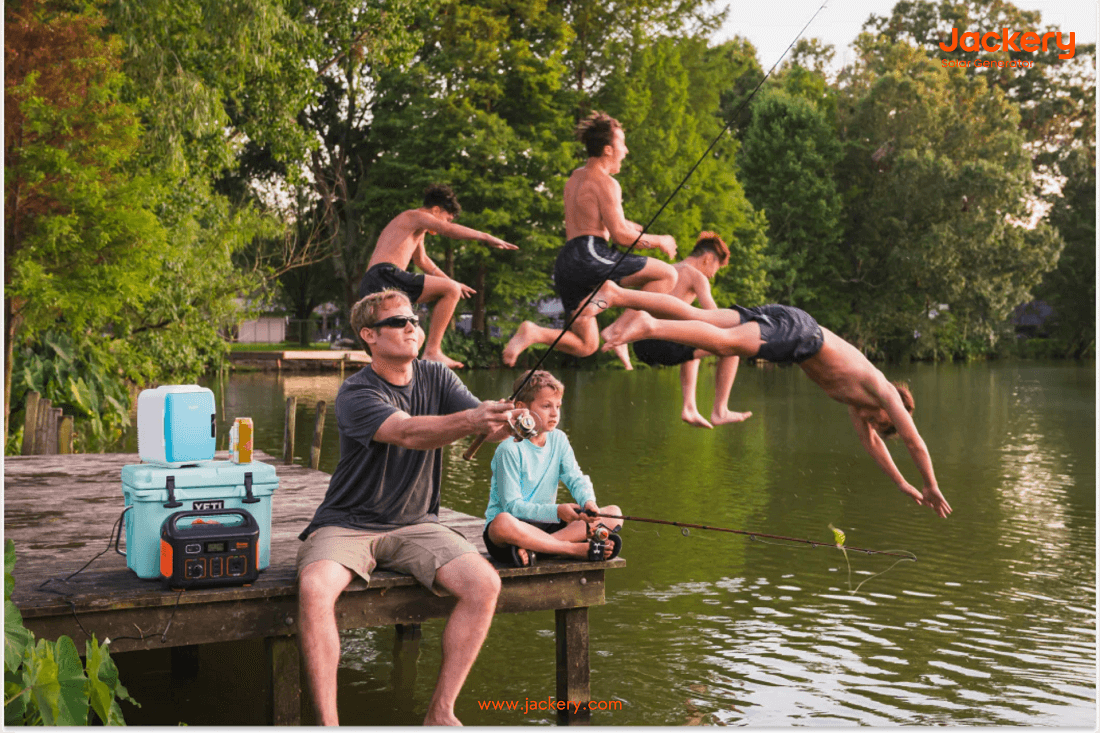 Bass Fishing Lures Tips
A few lures cover 99% of your encounters in most bass fishing locations. Knowing a little about the most excellent bass lures will significantly help you. Here's a quick review of the finest baits; our lure guide has more information on each lure.  
1. Spinner Baits:It works in shallow and deep water, under shelter, or in open water. It's also incredibly simple to fish. So, if you can learn which spinnerbaits to use and when to use which blades on spinnerbaits, you will catch a lot of bass all year.
2. Topwaters: Perhaps the most enjoyable approach to catching bass because it is so visually appealing, topwater catch bass when other presentations fail because it acts on both the feeding and aggravation impulses.   
3. Rigged Plastics: Discover how to Texas rig your plastics. It makes the worm, craw, or other plastic snag-less, allowing you to throw and fish it anywhere. Learn about craws, beavers, ribbon tail worms, brush hogs, and other common animals.
4. Crankbaits: Crankbaits come in a variety of sizes and depths. You have shallow runners as well as wakers. Mid-depth and lipless crankbaits are available. You can also use flat-side crankbaits and deep-diving crankbaits to reach deep fish during the pre-spawn and post-spawn phases.   
5. Swimbaits: Because there are so many effective sizes, forms, and uses, they have become versatile lures for bass fishing in the last ten years. The best big swimbaits are now luring monster bass across the country.       
6. Jerkbaits: Jerkbaits were once primarily a winter lure, but with the advent of live imagery, their adaptability has been shown in all seasons. Anglers are finding that jerk baits may span a wide range of depth zones, attract fish from long distances, and be worked slowly in the winter and quickly in the summer to elicit reaction bites.
7. Jigs: A jig and craw trailer provides fishermen with a formidable tool for catching bass. It operates in all seasons and in nearly all fisheries. You can see them in depths ranging from 0 to 100 feet.        
Bass Fishing Techniques
Let's face it: bass fishing may be challenging. "How do I catch more big bass?" is a question that every angler asks themself. There is no straightforward solution to that issue, but several bass fishing strategies can help you catch more fish.   
1. Find Cover: The most important and valuable of all bass fishing advice is to place your lure where the fish are. Spinnerbaits are one of the simplest lures to learn to fish for bass with. You tie one on and then cast it out and reel it in. When fishing in shallow water, use lighter spinnerbaits and move faster.     
2. Rigs in Clear Water: When fishing along the bank with little visible cover. There is still debris beneath the water. However, if the water is clear, bass can be terrifying. You can use a light Ned Rig or shaky head to throw a little plastic worm on a jighead and slowly creep, hop, and shake your worm to lure bass.
3. Matted Vegetation: When the grass peaks in summer, a frog efficiently lures bass out of cover. Whatever, it's one of the most exciting bites in bass fishing. So grab your favorite hollow-bodied frog, a sturdy rod, and a braided line. Then, with shortcuts of your rod tip, work it to make the frog splash on top of the mats and lure the bass up.
4. Hard Knots: One of the most critical aspects of bass fishing is the ability to switch lures and tie practical knots. Cut your bait and try another, but always tie a good knot, and if you've caught a few fish or fished it through rough cover, check your line and re-tie another good knot.
Bass Fishing FAQs
The following shows the frequently asked questions about bass fishing:   
1. What size of solar generator do I need for my bass fishing?
A portable solar generator is much more critical for bass fishing because it allows charging your fishing equipment and is a backup power source on an outdoor trip. Because of durability, mobility, and safety, Jackery solar generators are ideal for fishing. They power your fishing equipment, such as USB lures, fish finders, and your boat.
Before picking the suitable size solar generator, decide how much wattage you need for your fishing. Jackery solar generators have capacities ranging from 3024Wh to 240Wh, and you can choose one according to your requirements. Here's how to figure out how long it will take to charge your fishing equipment:
Working time = solar generator capacity*0.85 / your device's operating wattage
For example, using a Jackery Solar Generator 1000 Pro (1002Wh capacity) to charge a 60W fishing reel will last 13.4 hours (1002Wh*0.85/60W).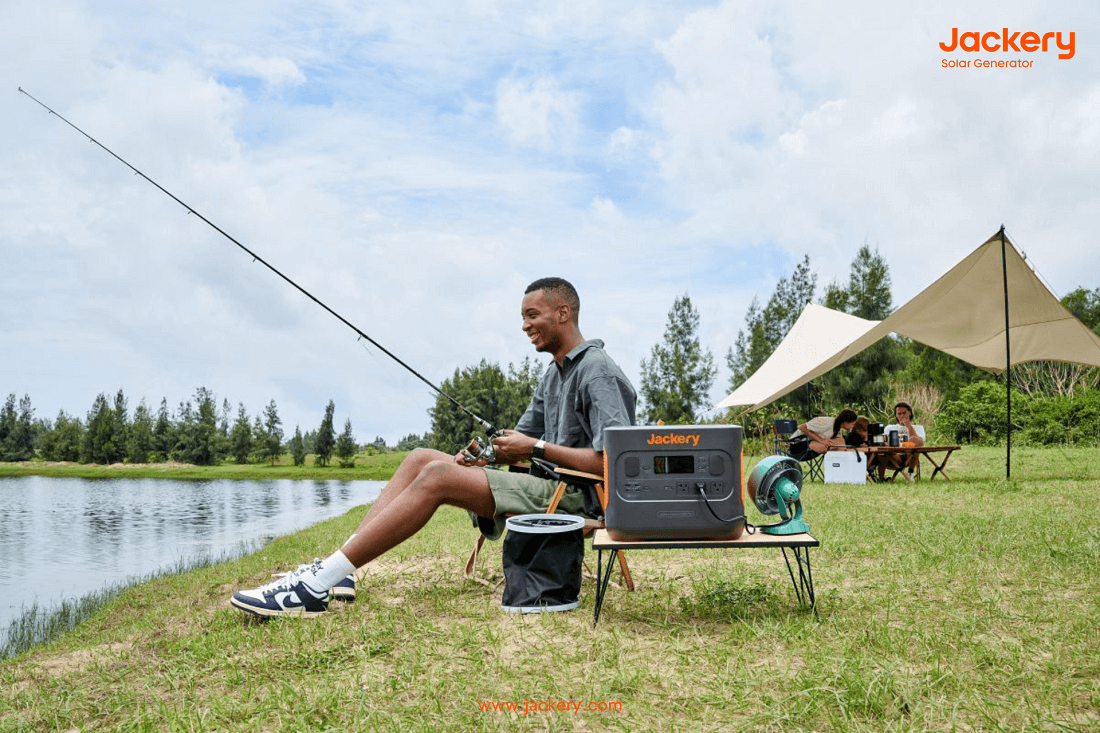 2. 
What is the best time to go bass fishing?
All year long, bass can be caught. When the weather is favorable and the bass feeds aggressively, most fishermen fish in April, May in the South, and June and July in the North. Smallmouth bass fishing is best in the fall.
During the height of the bass season, fish are most busy early in the morning and late in the evening (dawn and dusk). However, fantastic midnight bites can be found during the summer as well.   
3. What is the best bait for bass fishing?
As a result, baitfish and crawfish are usually the most dependable types of live bait for catching bass because these are what bass consume in a variety of locations. Frogs and worms are other popular baits.
Final Thoughts
Bass fishing needs effort, dedication, and a little luck. You'll see a natural progression when you first start fishing for black bass, including largemouth and smallmouth bass. Most people have yet to catch a trophy on their first trip.  
This comprehensive bass fishing guide will help you find everything you need. Of course, you should know where to cast your net, how to present your bait, and what techniques to use. You may initially feel overwhelmed by the jargon, techniques, and equipment used in black bass fishing. In addition, including a Jackery Solar Generator in your bass fishing equipment list could be a great decision to charge all of your gadgets, even your boat.               
---