Which One Is Cheaper: Living In an RV or a House
Nothing beats the thrill of hitting the open road and discovering new places, right? Full-time RV living is a fantastic way to travel and explore the world, but let's be honest, it comes with its own set of expenses. The big question on everyone's mind is whether RV cost is less in the US compared to homeownership or whether it is the other way around.
In short, RV living is hands-down more affordable than investing in a household in the US. To make RV cost of living more cost-effective, you can use a powerful solar generator to charge the appliances using free, renewable solar energy. Jackery Solar Generator 3000 Pro is a reliable power solution for RVs. Not only can it power 99% of outdoor appliances with solar energy, but it is also compatible and portable that fits RV space.
Jackery Solar Generator 3000 Pro

- 3024Wh to power up to 99% of outdoor appliances.
- Smart App control for easy operation.
- Portable design with a robust handle and wheels.
- Resilient in cold temperatures up to -20 °C / 4 °F*
- Industry-leading solar conversion efficiency.
What Is The Monthly/Yearly Cost Of Full-Time RV Living In The US?
The average monthly cost of an RV living depends on several different aspects, including but not limited to size, model, type of RV, and living location. Typically, the cost to purchase a recreational vehicle can range from $10,000 to $15,000.
In addition, you'll have to bear the ongoing expenses like repair and maintenance costs, fuel costs, insurance, etc. The monthly full-time RV cost of living will be around $1500 to $3000.
What Is The Monthly/Yearly Cost Of Homeowners In The US?
Buying a home conjures thoughts of financial freedom and security for many homeowners. However, it comes with higher initial and regular investment. The general upfront cost of purchasing a home in the US is nearly $40,559, with $1558 average monthly homeownership expenses.
Here is an illustration of how we calculated the average monthly cost of home ownership.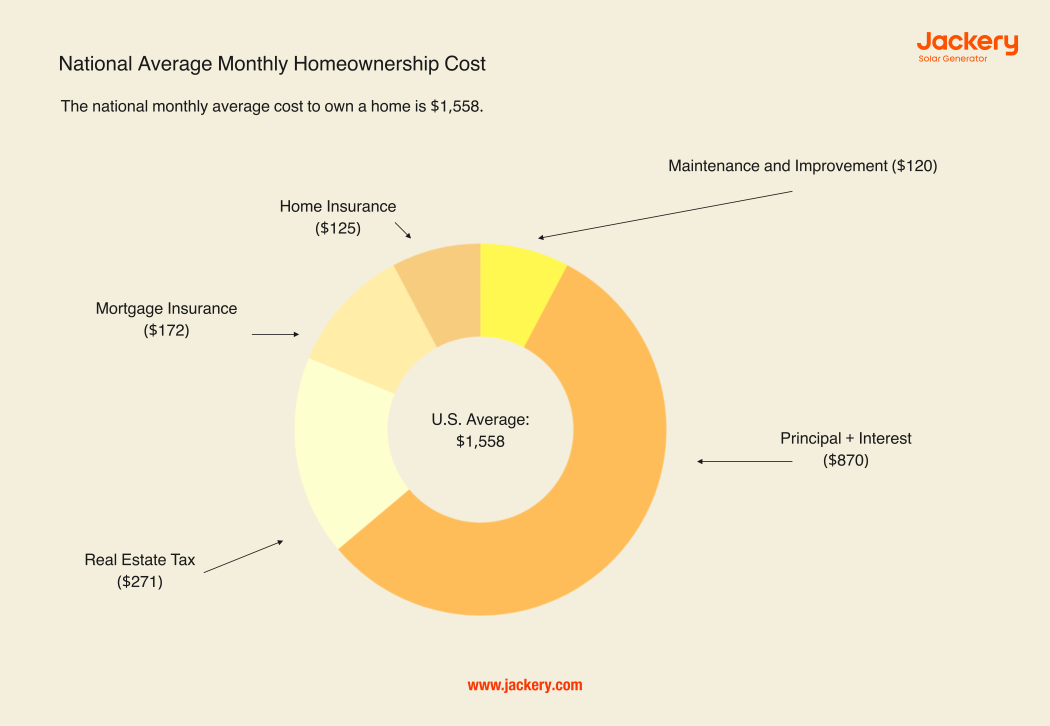 While calculating the monthly or yearly cost of owning a home, it's vital to understand the two types of expenses: one-time and ongoing. Some one-time expenses include a down payment, appraisal fee, inspection fee, and closing costs of the home. While the ongoing expenses include property tax, maintenance, homeowner's insurance, etc.
Below we provide the estimated expenses of owning a home.
| | |
| --- | --- |
| One-time Expenses | Ongoing Expenses |
| Down payment: 3% to 20% of the house price | Mortgage payment: Varies |
| Inspection fee: $281 to $402 | Property tax: nearly $2471 per year |
| Appraisal fee: $300 to $2000 | Homeowner's insurance: nearly $1428 per year |
| Closing costs: 2% to 5% of the house price | Private mortgage insurance: Varies |
|   | Homeowner's association dues: nearly $191 per month |
|   | Maintenance: At least 1% of annual property value |
|   | Utilities: nearly $2060 per year |
It is clear that the cost of purchasing a home is far higher than the full-time RV cost of living.
Note: These expenses related to home ownership in the US may vary depending on where you live and other factors.
What Are The Must-Haves For Full-Time RV Living?
Before you intend to hit the road and start your adventure as a full-time RV owner, you'll need to have all the essentials by your side. Here we have listed the must-haves that will be helpful resources for short- and long-trip adventures.
Water Filter
A good water filter ensures a safe and clean water supply for drinking, cooking, and bathing while enjoying RV trips.
Jackery Solar Generator
Imagine you're in the middle of the road, and your RV runs out of fuel, or, even worse, your phone's battery dies with no nearby electrical outlets. It will leave you frustrated and sad, converting your joyful RV adventure into misery. Luckily, there is a solution to it – a portable solar generator.
Jackery Solar Generators are portable and affordable means to charge your RV appliances. They consist of Jackery SolarSaga Solar Panels and Explorer Portable Power Stations that absorb and convert solar energy into electricity stored for later use.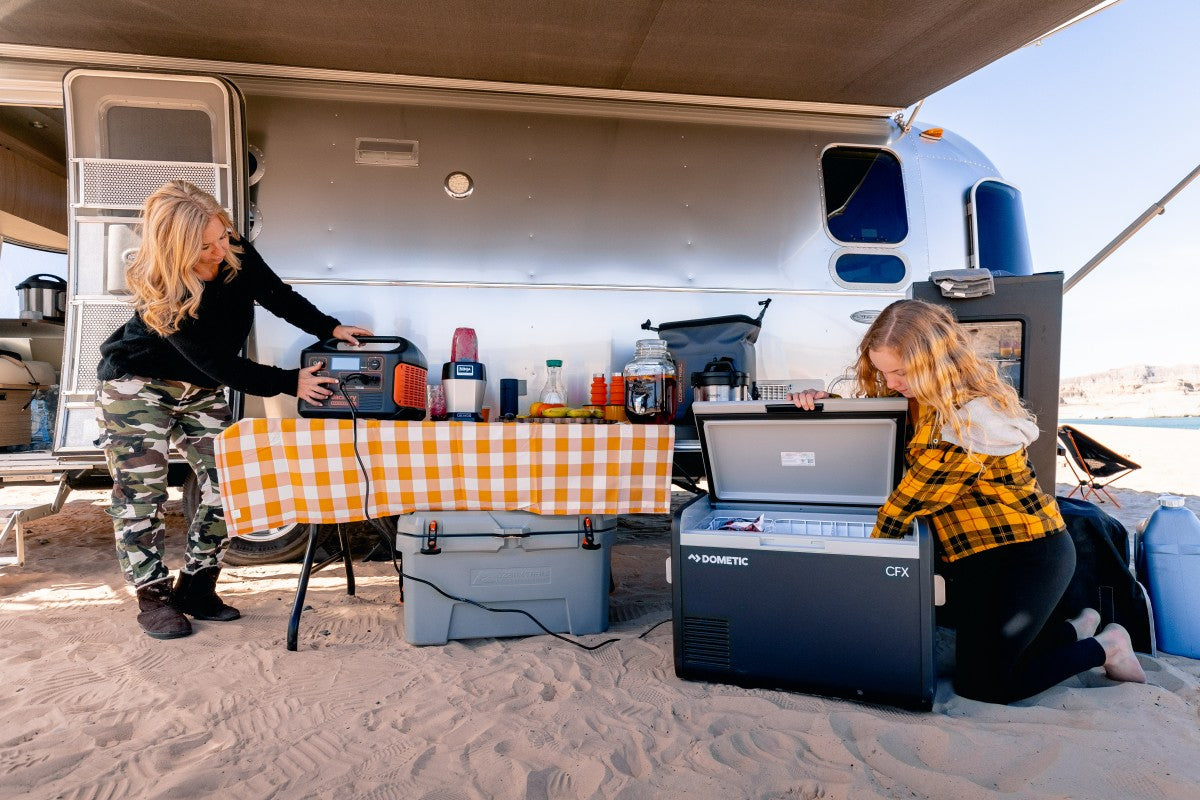 With a high battery capacity of 3024Wh, Jackery Solar Generator 3000 Pro can power 99% of RV appliances. It features pull rods and double wheels for easy and quick transportation. In addition, the fully-upgraded BMS design takes the safety of solar generators to the next level.
Series

Capacity

Recharging Time

Ports

RV Appliances

3024Wh

AC Adapter: 2.4H
12V Car Adapter: 35H
6x SolarSaga 200W Solar Panel: 3-4H
4x SolarSaga 200W Solar Panel: 5-6H
2x SolarSaga 200W Solar Panel: 9-10H
1x SolarSaga 200W Solar Panel: 18-19H

4x AC Output: 120V~ 60Hz 20A Max
1x AC Output: 120V~ 60Hz 25A Max
2x USB-C Output: 100W Max, 5V⎓3A, 9V⎓3A, 12V⎓3A, 15V⎓3A, 20V⎓5A
2x USB-A Output: Quick Charge 3.0, 18W Max, 5-6V⎓3A,
6-9V⎓2A, 9-12V⎓1.5A
Carport: 12V,10A Max
AC Input: 120V, 60Hz, 15A Max
DC Input: 2x DC 8mm Ports: 11-17.5V (Working Voltage)⎓8A Max, Double to 8A Max; 17.5-60V (Working Voltage)⎓12A, Double to 24A/1400W Max

Mini Refrigerator (200W) = 12H
Lights (50W) = 51H
TV (60W) = 42H
Heater (1800W) = 1.4H
Microwave (1000W) = 2.5H
Electric Grill (850W) = 3H
Coffee Machine (300W) = 8.5H
Sewer & Water Hoses
Regardless of whether you want to enjoy campgrounds or boondocking, you will need to invest in appropriate sewer hoses to drain wastewater. Further, you'll need to invest in a water hose to refill your freshwater tank.
First Aid Kit
The most important thing you must carry in your RV living is a well-equipped first aid kit. It is an essential item that will act as a savior during emergencies and injuries.
Tools
RV is a machine, so you must carry a basic tool set to appropriately maintain it. In addition, a basic set of tools is necessary to perform basic RV repairing tasks when and wherever needed.
Comfortable Bedding
In full-time RV living, your recreational vehicle will be your new home. You'll need comfortable bedding and linens to sleep on. Make sure you carry some warm electric blankets for the winter season and a portable power station to keep them powered.
Camping Membership
There are many US organizations that one can join as an RVer. However, not all are the same. You must do in-depth research to choose an organization that offers great resources at affordable rates.
What Are The Pros And Cons Of Full-Time RV Living?
Living full-time in an RV or not can be a big decision. Therefore, weighing the pros and cons of an RV's life is crucial.
Pros
Here we break down the benefits of living year-round in an RV.
Mobility: RV living gives you the freedom to travel anywhere instead of being tied to a location.
Flexibility: Living in an RVmeans you can change your mobile home location anytime. With RV living, you can spend your summers near the beach or winters near the mountains.
Cost Savings: Compared to home ownership in the US, RV life is much cheaper. Instead of paying substantial down payments and high electricity costs, you can use a solar generator to charge most of your appliances in an RV.
Minimalist Lifestyle: The RV experience means simplifying your lifestyle and embracing minimalism as a skill.
Adventurous: If you are someone who loves to hop on adventurous activities, RV living is one of the best things to opt for. It lets you travel full-time so you can explore new places and enjoy your life to the fullest.
Cons
Now that you know why RV living is popular, here are its few downsides.
Lack of Space:For some people, adjusting to a small space like an RV can be challenging.
RV Maintenance: Just like your home needs maintenance, RVs require some kind of investment after a few years. The larger the RV size, the more will be the maintenance cost.
Temperature Fluctuations:RVs without insulation generally deal with temperature fluctuations. However, you can always move your home during extreme cold and hot conditions to overcome such volatility.
What Should You Do Before Hitting The Road?
Whether you're planning to hit the road solo or with your family, following a clear set of instructions is vital. Some steps that will assist you in kick-starting your journey of living in an RV include:
Invest in a Right-Sized RV: Many RVers ask, "How much does an RV cost?" The exact answer depends on the size and type of the vehicle. Plan how much cash-on-hand you want to spend and try to look for different sizes and types of vehicles that match your budget constraints.  
Learn Basics About Your RV: Every RV comes with manuals, and as an RV owner, you need to know your vehicle. Master the basic techniques such as plumbing, leak patching, flat tire change, etc., to ensure you are never stuck in the middle of nowhere.
Do Your Research: Find out the popular campgrounds and RV parks in the US and book them in advance. Before you leave your brick-and-mortar home, you'll need a general idea of where you are staying and for how long.
Downsize: You probably do not require all your home appliances in an RV. Therefore, downsizing is an essential part of full-time RV living. Prioritize the essentials and remove the devices you can live without.
Make a Checklist: To prepare yourself for the RV lifestyle, you need to create a checklist of all the basic steps. This will help you keep everything sorted to embrace RV living.
Full-Time Living Cost FAQs
What are the hidden costs of homeowner and full-time RV living?
Living an RV lifestyle comes with its own expenses, including but not limited to insurance, campsite fees, repair and maintenance costs, and insurance. However, an RV cost is much less than home ownership. Some hidden costs of homeownership are mortgage payments, maintenance costs, homeowner's insurance, property taxes, etc.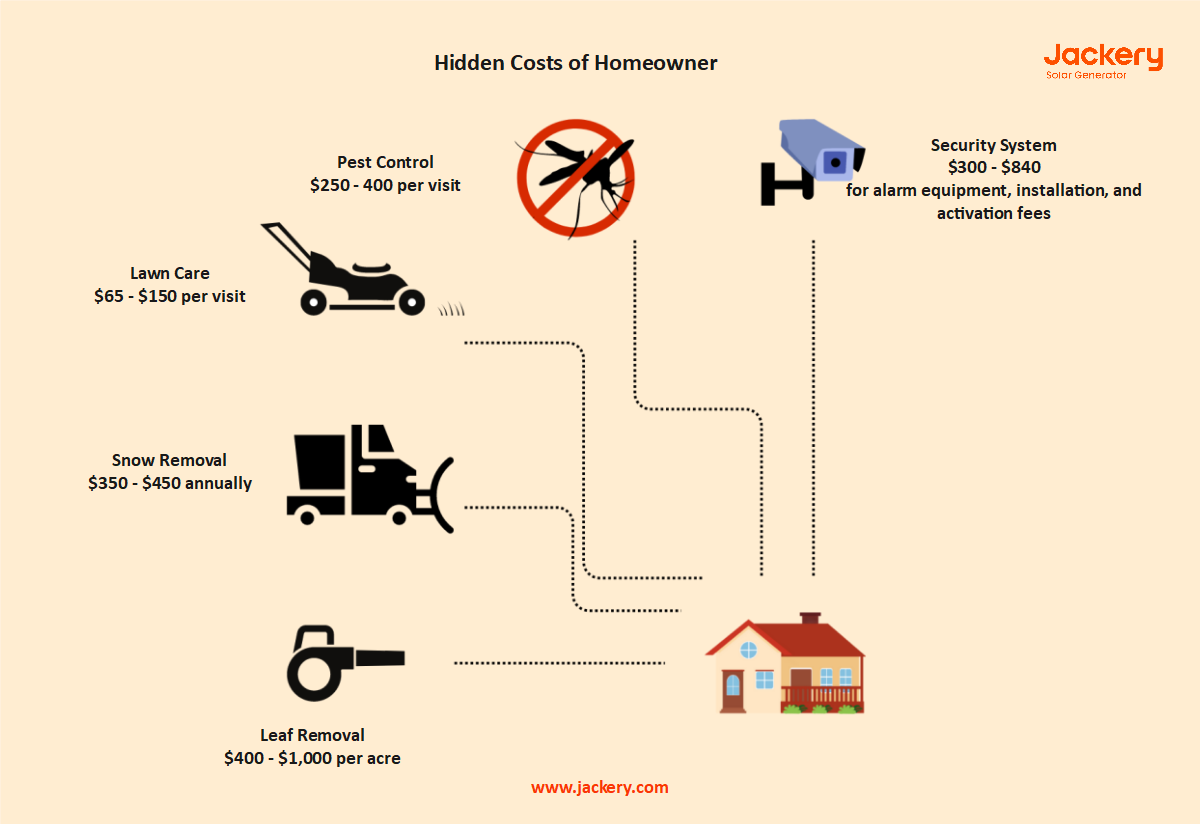 How to save my full-time RV costs?
Some ways to save money on full-time RV living costs include:
Try free campgrounds by giving boondocking a try. This will help you eliminate the expensive camping fees.
Invest in some campground memberships that match your travel lifestyle.
Invest in portable solar generators for RV to charge all appliances using free solar energy.
Stay in a single adventurous place longer instead of changing locations.
Try free activities like enjoying a cool playground, visiting libraries, and participating in seasonal festivals.
What size of solar generator do I need for full-time RV living?
The exact size of the solar generator will vary depending on the size, model, and type of your RV. However, here is a general formula to calculate the right Jackery solar generator size.
Suppose you are using Jackery Solar Generator 3000 Pro, which has a battery capacity 3024Wh to charge your RV appliances.
Let's say you want to power a mini refrigerator 200W and a mini cooler 200W with a solar generator.
Working Time = 3024Wh × 0.85 / 400W = 6.4H.
That means Jackery Solar Generator 3000 Pro can supply power for 6.4H to a mini refrigerator and mini cooler.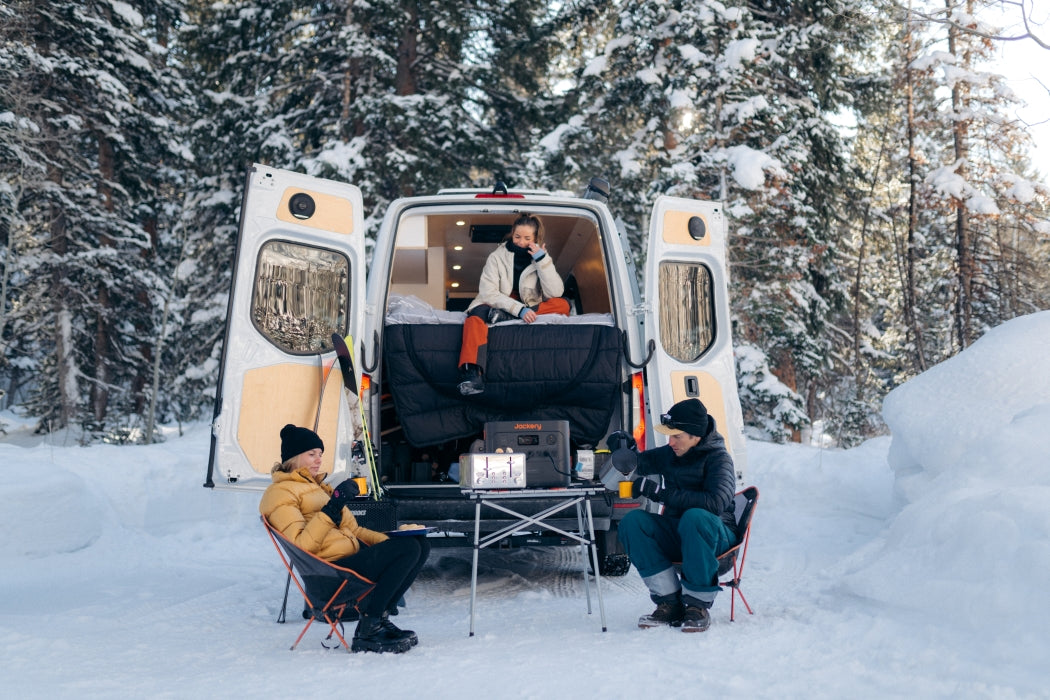 Final Thoughts
Living in an RV can be an adventurous experience for all outdoor enthusiasts. However, before trying this new lifestyle, you need to prepare yourself and understand the RV costs. In addition, do research before choosing the campsite and carry all the must-haves to avoid last-minute surprises.
You can carry a portable and affordable Jackery Solar Generator to power all your gear with the sun's energy. It can provide clean and reliable energy for RVing or camping appliances for long hours. With Jackery Solar Generator 3000 Pro, you can charge 99% of RV appliances and enjoy your trip to the fullest.
---